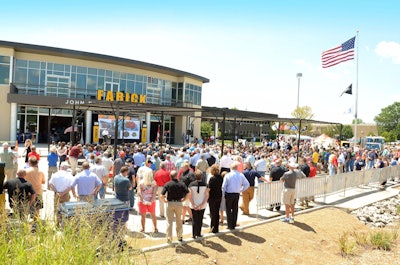 Fabick Cat recently marked its 100th anniversary with six $100,000 donations to St. Louis area charities from the dealership's Fabick Charitable Trust.
"For 100-years, Fabick Cat has supplied equipment and services that help make progress possible and improve the quality of life in our communities," says Fabick Cat CEO Doug Fabick. "Since 1917 our motto has always been 'To Ever Serve Our Customers Better.' To this day, these words remain the foundation of our success."
The organizations receiving the funds include:
MASTERS – Missouri Association of State Troopers Emergency Relief Society – providing financial aid for a trooper's immediate surviving family member (wife or husband) and children if he or she is killed in the line of duty.
St. Louis Police Foundation – Supporting the difficult work of the St. Louis Metropolitan and St. Louis County Police Departments through the donation of funds, services and goods.
SSM Health Cardinal Glennon Children's Hospital –Helping make the delivery of exceptional health care, in state-of-the-art facilities, available to all children in need of care.
Boy Scouts Greater St. Louis Area Council – Helping train youth in responsible citizenship, character development, and self-reliance through participation in a wide range of outdoor activities and educational programs.
Wings of Hope – An aviation non-profit delivering humanitarian programs around the globe to lift people in need towards self-sufficiency.
Segs4Vets – A non-profit organization that awards Segways to severely injured veterans to help solve mobility issues in a manner which is both psychologically uplifting and physically beneficial.
"As a family-owned business spanning five generations, Fabick Cat has a long history of giving back, and today we are honored to affirm this deep commitment to our community by making this $600,000 contribution to our charitable partners," says Jeré Fabick, company president.
The dealership also partnered with the St. Louis Cardinals in providing the first 30,000 fans age 16 and over with a Replica 1919 jersey at a July 29 game against the Arizona Diamondbacks, along with sponsoring fireworks following the event.