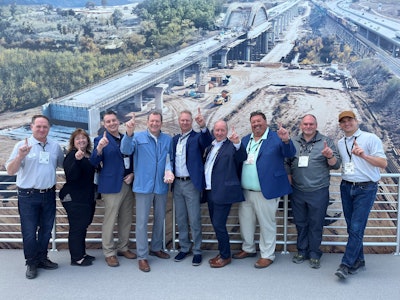 Volvo Construction Equipment
Volvo Construction Equipment recently honored Hoffman Equipment with its 2022 Dealer of the Year award.
Despite supply chain disruptions over the past few years, Volvo says Hoffman has maintained consistent market share and has grown its parts and service offerings. The third-generation family-owned company has six locations across New York, New Jersey and Pennsylvania.
"In only four years as a Volvo CE dealer, Hoffman has gone above and beyond to serve a competitive market around New York," said Stephen Roy, president of Region North America, Volvo CE. "They routinely host technical training events that include surrounding dealers and have implemented a lot of the efforts we feel best support customer success."
Hoffman is especially focused on telematics and assistive software, technician training and customer service to help customers maximize productivity and uptime.
"We're also impressed by Hoffman's top-down engagement in the transition to more sustainable power," said Roy. "They're cultivating a new market by identifying early adopters and incorporating rentals to allow customers to get comfortable with the new machines."
"We are extremely proud to be recognized for our efforts to provide exceptional service for our customers," said President and CEO Tim Watters. "Our motto, 'The Total Service Company,' was established nearly 100 years ago and we continue to measure ourselves by this standard. This award from Volvo confirms that our hard work is paying off, and I am so proud of our team and all they achieve."
Takeuchi Names 2022 Dealer and Salesperson of the Year
With locations along the I-5 corridor in Portland and Eugene, Oregon and Woodinville, Washington, Feenaughty Machinery Company has been recognized as Takeuchi's North American Dealer of the Year for 2022.
The company, which supplies construction and forestry customers throughout western Oregon and Washington was previously recognized by Takeuchi in 2019.
In addition, Billy Parker, a territory sales manager at Feenaughty's Portland location, was honored as Takeuchi's Salesperson of the Year award, ranking number one in retail sales for North America in 2022.
"We're very honored to receive this award from Takeuchi once again," said Randy Harris, president of Feenaughty Machinery, citing Parker's efforts being a factor in their achievements in 2022. "Receiving this kind of an award assures us that we're continuing to do the right things as an equipment dealer, and we hope to enjoy even greater success with Takeuchi in the future," Harris noted.
Parker has been a territory sales manager with Feenaughty Machinery since 2008. "I'm very honored to receive Takeuchi's Top Dealer Salesperson Award," he said. "I've been a part of the Feenaughty Machinery family for a long time, and I honestly enjoy what I do here."
Parker noted that working with the customers inspires him and he has a passion for helping them discover easier, better ways to get the job done.
Feenaughty Machinery Co. dates to 1901 when founder and Irish immigrant William Orlando Feenaughty moved from New York to Portland planning to work in the timber industry. Rather than get into the industry, he started his own machinery company, selling different types of equipment before filling a niche in the construction and forestry industries. More than a century later, the company remains a family-owned business, still priding itself on maintaining excellent customer relationships and providing exceptional service.
"The team at Feenaughty Machinery has served generations of customers throughout the Pacific Northwest," said Shay Klusmeyer, Takeuchi's Western Region divisional sales manager. "While the equipment industry continues to evolve, Feenaughty Machinery maintains a strong dedication to honesty and integrity that keeps their current customers coming back and brings new customers in the door."
Taylor Construction Equipment Expands Hyundai Territory
Taylor Construction Equipment, a Hyundai Construction Equipment dealer, expanded its territory to include portions of Indiana and Ohio.
Its Ohio territory includes 34 counties including the Cincinnati, Columbus and Dayton metropolitan regions, while the Indiana territory comprises 39 counties, including the Indianapolis metro region, Bloomington, Columbus, and the northern suburbs of Louisville, Ky.
These counties will be serviced through its facilities in Cleves, Ohio and Indianapolis. Taylor plans to expand in the Columbus, Ohio, metro area in the future.
"Taylor Construction Equipment is excited to expand our relationship with Hyundai into additional states," said Tim Gerbus, sales manager, Taylor Construction Equipment. "We've had great success with Hyundai, and our customers are well pleased with the fuel efficiency, ease of operation, dependability and productivity of all their Hyundai machines."
"Hyundai and Taylor Construction Equipment already have built a great relationship in less than two years," added Ed Harseim, North Central district manager for Hyundai. "We offer customers a combination that's tough to beat – Taylor's longstanding leadership in selling and servicing heavy equipment, plus the equipment, support and financial services of Hyundai."
Pacific Coast Iron Joins LiuGong Dealer Network
LiuGong has added Pacific Coast Iron to the company's dealer network.
Headquartered in Placerville, California, Pacific Coast Iron will rent and service LiuGong equipment in California and western Nevada. The company sells equipment worldwide.
"We wanted to provide our customer base with the latest market products that are both affordable and reliable," said Pacific Coast Iron Marketing Manager Kami Louis.
Lilley International Adds Thunder Creek to its Equipment Lineup
Lilley International, a truck, trailer and farm equipment dealer, has added Thunder Creek Equipment fuel and service trailers to its product offerings.
Lilley serves farming, logging and construction customers from its four locations across North Carolina. "Farmers and loggers have always played a key role in our market's economic activity, and the construction industry has boomed to support additional growth," says Jim Lilley, vice president, Lilley International. "Thunder Creek's product line offers the perfect solutions for these machinery-dependent businesses — we want to provide a complete solution and serve as a trusted partner for our customers."
Thunder Creek Equipment designs and manufactures diesel fuel and service trailers and maintenance products including the No-HAZMAT Multi-Tank Trailer (MTT), the Multi-Tank Oil Trailer (MTO), the Service and Lube Trailer (SLT), Multi-Tank Upfit (MTU), and Service and Lube Upfit (SLU).