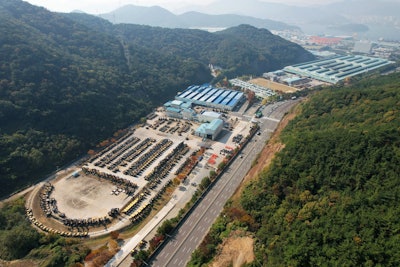 Volvo Construction Equipment
Volvo CE has announced a $7.8 million investment into battery pack production at its excavator plant in Changwon, South Korea.
The investment is another step towards the company's ambitions to be fossil free, with 35% of machine sales to be electric by 2030.
At around 1.1 million square meters, the Changwon plant is the largest excavator production site in Volvo CE, producing around 55% of its total excavator units. The new facility will produce a wide range of battery packs for Volvo Group and become a core competence center for electric excavators.
Andy Knight, head of operations excavator and managing director of Volvo Group Korea, says: "As the largest plant in Volvo CE and the core site for excavator development and production, Changwon is at the forefront of our shift to a sustainable future.
"This investment is an important milestone in our electrification roadmap and supports our recent investments in production facilities for electric excavators. Changwon is ideally located close to battery module supply partners and other key suppliers in South Korea to meet the needs of customers in the future. We are also home to a highly skilled and motivated workforce who are fully committed to meeting our future environmental targets."
The new 2,500-square-meter production facility will be built inside the current component workshop at Changwon. Construction will begin in April 2023, with battery pack production expected to start in June 2024.
Volvo CE currently offers the ECR25 Electric, ECR18 Electric, EC18 Electric and the mid-size EC230 Electric excavators.
Exodus Global Acquires Rockwheel Americas
Exodus Global, a manufacturer and distributor of attachments for the construction, demolition and recycling industries, has acquired Rockwheel Americas, the North American distributor of the RockWheel, RockCrusher and RockScreener hydraulic attachments.
Rockwheel Americas will be rebranded as RockZone Americas to better reflect the product line and to align with RockZone Global, Exodus said. RockZone Americas will continue to operate out of its current Bellefonte, Pa. location.
"The addition of RockZone Americas is a great fit. Their industry-leading products dovetail perfectly with our existing product line-up. We are excited to enhance the customer relationships RockWheel has established with our product support and service capabilities, as well as bring these products to a whole new group of customers," said Global's Vice President of Sales Richard Currie.
DEALERS & DISTRIBUTORS
CraneWorks/RentalWorks Named Magni Dealer of the Year
Magni Telescopic Handlers, has named Birmingham, Ala.-based CraneWorks/RentalWorks as its 2022 Dealer of the Year for its successful sales and market development efforts.
Magni's Joe Leinwol, chief sales officer, and Nick Newbury, Southeast regional sales manager presented the award at the dealer's recent company sales meeting.
"We are honored and thrilled to award CraneWorks/RentalWorks as Dealer of the Year, they are much deserving of this recognition," said Leinwol. "They are a top-performing dealer who has really done a great job with the Magni brand throughout its territory. They always treat the customer as their number one priority and have fully embraced the Magni value proposition for its customers, which is why they are so successful."
Cemen Tech Names C.N. Wood as a Dealer
Volumetric concrete mixer manufacturer Cemen Tech has added C.N. Wood to its authorized dealer network.
C.N. Wood will be the exclusive dealer for Massachusetts, Connecticut, Rhode Island, New York and Maine.
"Cemen Tech makes a point to partner with companies that appreciate and share our personalized approach to connecting concrete solutions to customers' needs through a lasting commitment to minimizing downtime and improving productivity," said Connor Deering, CEO and President of Cemen Tech. "C.N. Wood's long-standing reputation for service is a great match for our high-quality products and innovative technology and we are proud to have them on board."