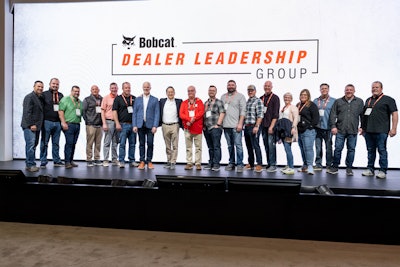 Bobcat
Sixteen dealers have been named to Bobcat's Dealer Leadership Group, an honor recognizing top performance and customer service across the company's 300-plus North American dealer enterprises.
Dealer representatives from the group function as the "voice" for the dealer network and meet with Bobcat senior leadership throughout the year to provide insights and feedback.
Honored dealers include:
American Rent All – Maryland

Begone, Inc. – Nebraska

Bobcat of Chico – California

Bobcat of Brandon – Manitoba, Canada

Bobcat of Brantford, Inc. – Ontario, Canada

Bobcat of Fort Wayne – Indiana

Bobcat of Lincoln – Nebraska

Bobcat of Mandan, Inc. – North Dakota

Bobcat of the Mountain Empire – Tennessee

Bobcat of the Rockies – Colorado

Ironhide Equipment, Inc. – North Dakota

Leppo Inc. – Ohio

Rexco Equipment, Inc. – Iowa

Total Equipment & Rental of the Midwest – New Mexico, Oklahoma and Texas

Upstate Equipment – New York

White Star Machinery – Kan

sas
Volvo CE Dealer Chadwick-BaRoss Acquires Woodco Machinery
Volvo Construction Equipment dealer Chadwick-BaRoss is expanding its territory into eastern Massachusetts and Rhode Island with the acquisition of the Volvo and SDLG assets of Woodco Machinery Inc.
Chadwick, which has been providing equipment in New England for nearly 100 years, will offer a full suite of Volvo machines and services through its existing and future locations in these states.
"Volvo is a highly respected name among our customers, and we've had great success with Volvo products in Maine and New Hampshire," said Jim Maxwell, president of Chadwick-BaRoss. "I'm excited to bring Volvo machines and Chadwick-BaRoss service and support to our new customers in Massachusetts and Rhode Island."
Forest Pro Named Develon Dealer at its 3 Virginia Locations
Forest Pro will now represent Develon, formerly Doosan construction equipment, at its Scottsville, Manquin and Keysville, Virginia locations.
The sales, parts and service for the full line of crawler, wheel and mini excavators, wheel loaders, dozers and articulated trucks will be available at all three locations.
"We're thrilled to offer Develon products in Scottsville, Manquin and Keysville," says Joel Matteson, general manager at Forest Pro, Inc. "Our company has been serving logging customers for over 30 years and continues to provide the highest level of customer service available in the forestry industry. We look forward to the future and to building strong relationships with customers and the community."
Universal Technical Institute, RDO Equipment Offering Diesel Students Work Experience, Tuition Reimbursement
Trade education program provider Universal Technical Institute (UTI) has added RDO Equipment Co. as an Early Employment Program partner.
UTI's Early Employment Program partners offer paid work experience, consideration for full-time employment and reimbursement for education-related expenses after graduation. RDO, which has 75 locations across the U.S., has committed to offering program participants they hire up to $32,000, which includes tuition reimbursement over four years, a company-paid tool program, and a $5,000 bonus when hired upon graduation.
Students enrolled in the diesel program at UTI campuses in Avondale, Ariz., Long Beach, Rancho Cucamonga and Sacramento, Calif., and Austin and Dallas, Texas, are eligible to apply.
"We're proud of the success of our Early Employment Program and are excited to see it growing, giving students more opportunities to gain real-world experience while helping them pay for their education," said Vice President of Student Success, Melanie Scheet. "This initiative helps UTI continue to offer students the best technical training in the transportation industry while some of the biggest names in the industry are finding qualified employees who can hit the ground running on day one."
Jeff Spake, RDO recruiting program manager, adds, "The demand for highly-skilled diesel technicians has never been greater for us, and Universal Technical Institute has designed a curriculum to help students acquire the skills they need to succeed. By working with employers and industry leaders like RDO Equipment Co., UTI offers programs that strengthen technical and professional skills in preparation for long-term, rewarding careers."