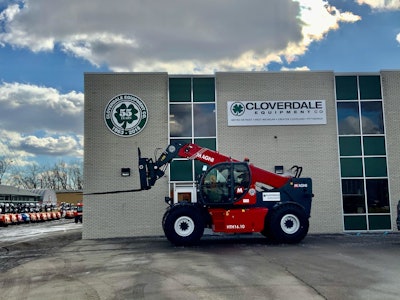 Magni

Magni Telescopic Handlers has named Cloverdale Equipment its dealer for the state of Michigan, along with parts of Ohio and Pennsylvania.
Todd Moilanen, CEO of Cloverdale, says Magni's rotational and high-capacity telehandlers will be added to its rental fleet. "Our customers will be able to use them in many applications, adding accessories like forks, winches, and platforms, and the 360° rotation will give them multi-function capabilities in a 3-in-1 machine," he says.
Cloverdale has four locations in Detroit, west Michigan, the Cleveland area and in Pittsburgh. Established in 1963, it offers aerial lifts, telehandlers, forklifts, rough terrain and industrial cranes, boom trucks, portable air compressors and related equipment. Magni products are offered in the U.S. through Magni America.
Hyundai adds St. Joseph Equipment
Hyundai Construction Equipment Americas has added St. Joseph Equipment to its dealer network, representing Hyundai's full line at its La Crosse, Wisconsin, and Eyota, Minnesota locations.
In business since 1948, St. Joseph Equipment serves all of western Wisconsin and southeast Minnesota. It offers new and used equipment, including products from Case IH, New Holland, Massey Ferguson, Kubota and Bobcat.
Thompson Machinery takes on Metso
Thompson Machinery, Nashville, Tennessee, has added Metso's mobile and stationary crushing and screening plants to its product offerings.
To support the Metso line, Thompson has named Doug Sites as its specialty products manager. In addition to sales and support, Thompson will offer select Metso products within its rental fleet.
Thompson is the Cat dealer for middle and west Tennessee and north Mississippi.
Hawthorne Cat adds California locations
Hawthorne Cat has opened a new store in Oceanside, California, and moved its Chula Vista store to a larger location.
The company also says it is expanding its services to add technician services to its San Diego branch stores.
Hawthorne Cat currently has five stores in San Diego County, with a total of 13 locations throughout San Diego, Hawaii and the Pacific Region, including Guam, Saipan and American Samoa. The company serves various industries, including general building construction, landscaping, marine, paving and power generation.
Milton Rents to add Chicopee store
Milton Rents, a division of Milton Cat, is in the process of renovating a facility in Chicopee, Massachusetts, the eighth company store and the first in western Massachusetts. Local media outlet MassLive quotes Bill Star, Milton chief legal counsel as saying Milton Rents expects to have 40 stores in the next 15 years.
Milton expects to open the store by the end of the year or the first quarter of 2022.
Able Equipment Rental names Farley CIO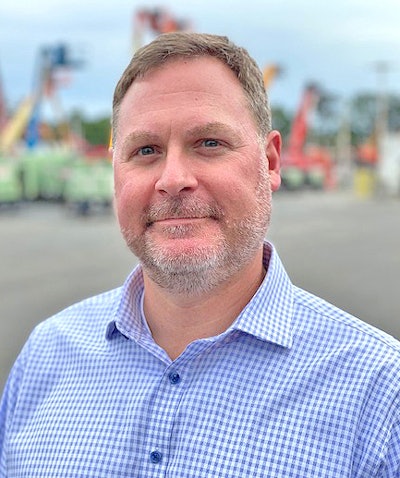 Able Equipment Rental has appointed Patrick Farley as its chief information officer. Farley comes to Able with more than 15 years of technology management experience in the equipment rental industry.
Able offers aerial lifts, air compressors, generators, heaters, material handlers, rotating telehandlers and other products for sale and rent throughout the Northeast and Mid-Atlantic regions. It also provides oversize and heavy-haul trucking services, using a fleet of flatbed, step deck, double drop, extendable, modular and perimeter-beam trailers.
Dawes Rigging driver named SC&RA Driver of the Year
The Specialized Carriers & Rigging Association has named Robert Foulker its 2021 Driver of the Year.
Foulker, who drove for Dawes Rigging and Crane Rental, Milwaukee, Wisconsin, was recognized for his long record of safe and courteous driving, demonstrated leadership amongst peers and outstanding contributions to highway safety.
Foulker began his career with Dawes 20-plus years ago and took on numerous roles, including moving smaller equipment locally, moving larger rough-terrain cranes around Wisconsin to taking crane components across the country. He also assisted in crane assembly and disassembly. He retired in April.
Home Depot launches online rental, store pick-up technology
Home Depot has launched a new "rent online, pick-up in store" technology, available at its 1,300 rental locations.
The feature is aimed at both professional and DIY customers, says Richard Porter, vice president, The Home Depot Rental. "For urgent needs at the jobsite or in the midst of that weekend project, customers can also check availability at multiple locations and make reservations on their phone or other mobile device," he says.
Home Depot also says it has opened eight new Rental Centers since January, including two in California, three in Texas and one each in Georgia, Hawaii and Virginia.