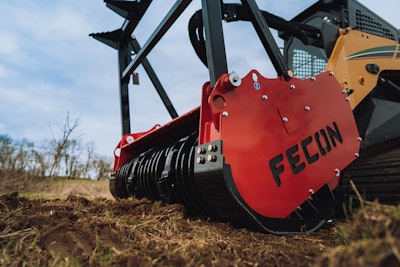 Fecon
Fecon has introduced a new multi-tiered dealership program, including Associate, Partner and Signature levels:
Associate Level -- Often new dealers, these dealers stock a minimal level of Fecon attachments and ancillary parts.
Partner Level -- Dealers who provide a more extensive level attachments and their associated service parts, along with providing some level of service. These dealers provide tractors on a non-exclusive basis.
Signature Level -- These dealers stock Fecon attachments and tractors as well as their corresponding service parts, have at least one on-site Fecon specialist and provides in-shop or in-field service capabilities.
"We have partnered with our Signature Level dealers so that customers will have a knowledgeable, Fecon-trained expert locally available," says Mike Kucharski, Fecon vice president of dealer development. "That coupled with their extensive commitment to equipment and parts inventories, exclusive availability of Fecon tractors, rental fleets and service availability assures customer success in all aspects."
Fecon's online dealer locator tool drives new customers to Signature and Partner dealers, and allows them to search for attachments, tractors and rentals within 10 to 250 miles from a zip code.
Company Wrench adds Indianapolis branch
Company Wrench's newest branch in Indianapolis will offer new and used equipment for sale and lease, targeting the general construction, demolition, scrap and recycling markets.
The company also has branches in Florida, Kentucky, New Jersey, North Carolina, Ohio, South Carolina and Tennessee. It represents JCB, Kobelco, Fuchs and LaBounty along with other manufacturers.
Aring Equipment signs with Cemen Tech
Aring Equipment will serve as Cemen Tech's dealer throughout Wisconsin, offering its line of volumetric concrete mixers. These mixers allow concrete to be mixes on the jobsite for the exact quantity needed.
SUPPLIER NEWS
Volvo adds West Coast technician training facility
Volvo Construction Equipment will add a 9,000-plus-square-foot technician training facility in the San Francisco Bay Area this summer. In addition to diesel construction equipment technician training, the Hayward, California, facility will also serve as a hub for the entire Volvo Group's battery-electric vehicle training. Volvo CE will use it as part of its e-mobility technician training as it rolls out its electric compact excavators and wheel loaders.
In addition, Volvo Trucks North America plans to train techs on its Volvo VNR Electric truck and Mack Trucks will train on its Mack LR Electric model.
Volvo CE also offers technician training at its Shippensburg, Pennsylvania, North American headquarters.
Milwaukee Tool expands Mississippi presence
Milwaukee Tool is adding a manufacturing facility in Granada, Mississippi. Opening in late 2022, the plant will increase the company's power tool and accessories business, creating 1,200 jobs in the region.
The company will invest $60 million in the 500,000-square-foot facility. The company's other facilities in the state are in Greenwood, Olive Branch and Jackson, employing more than 2,340 people.
In the past five years, Milwaukee says it has invested $368 million in domestic expansion projects and now employs 5,500 people in the U.S.