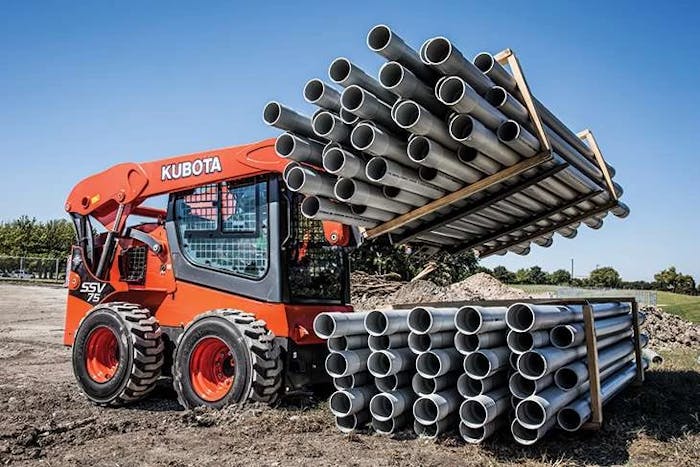 Kubota
As we've noted, times were good for compact equipment in 2020, and skid steers proved no exception.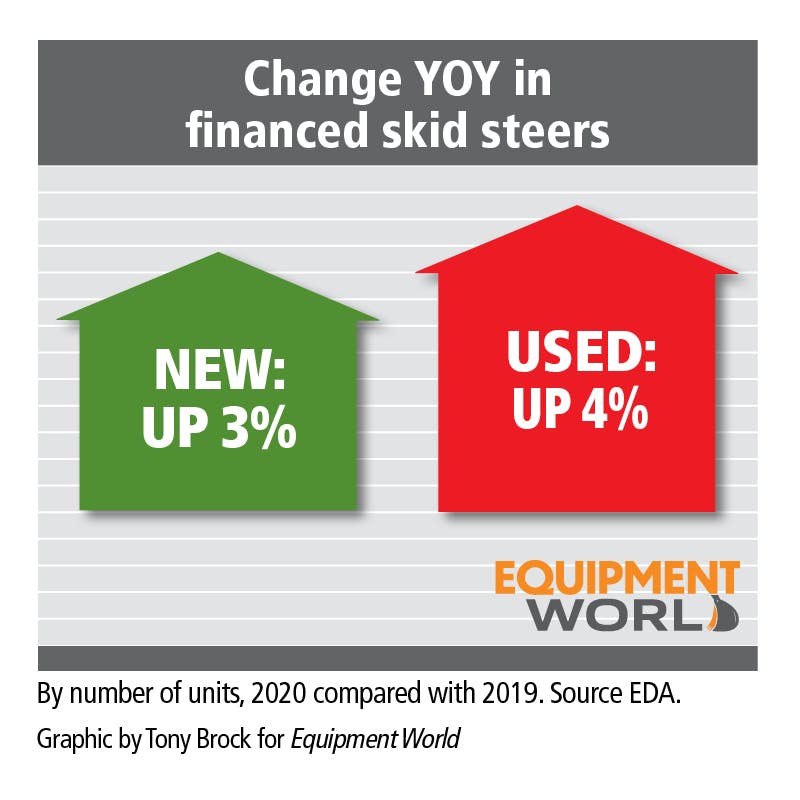 Financed new and used skid steers had modest gains year-over-year in 2020, with the number of new financed units up 3%, according to data from EDA. Used financed units saw a 4% gain.
The 2020 gains in the number of new financed units stopped a two-year decline in 2018 and 2019. The 10-year high was in 2017, when 14,379 new skid steers were financed.
And 2020 actually marked a 10-year high in the number of financed used skid steers, with 13,836 units financed.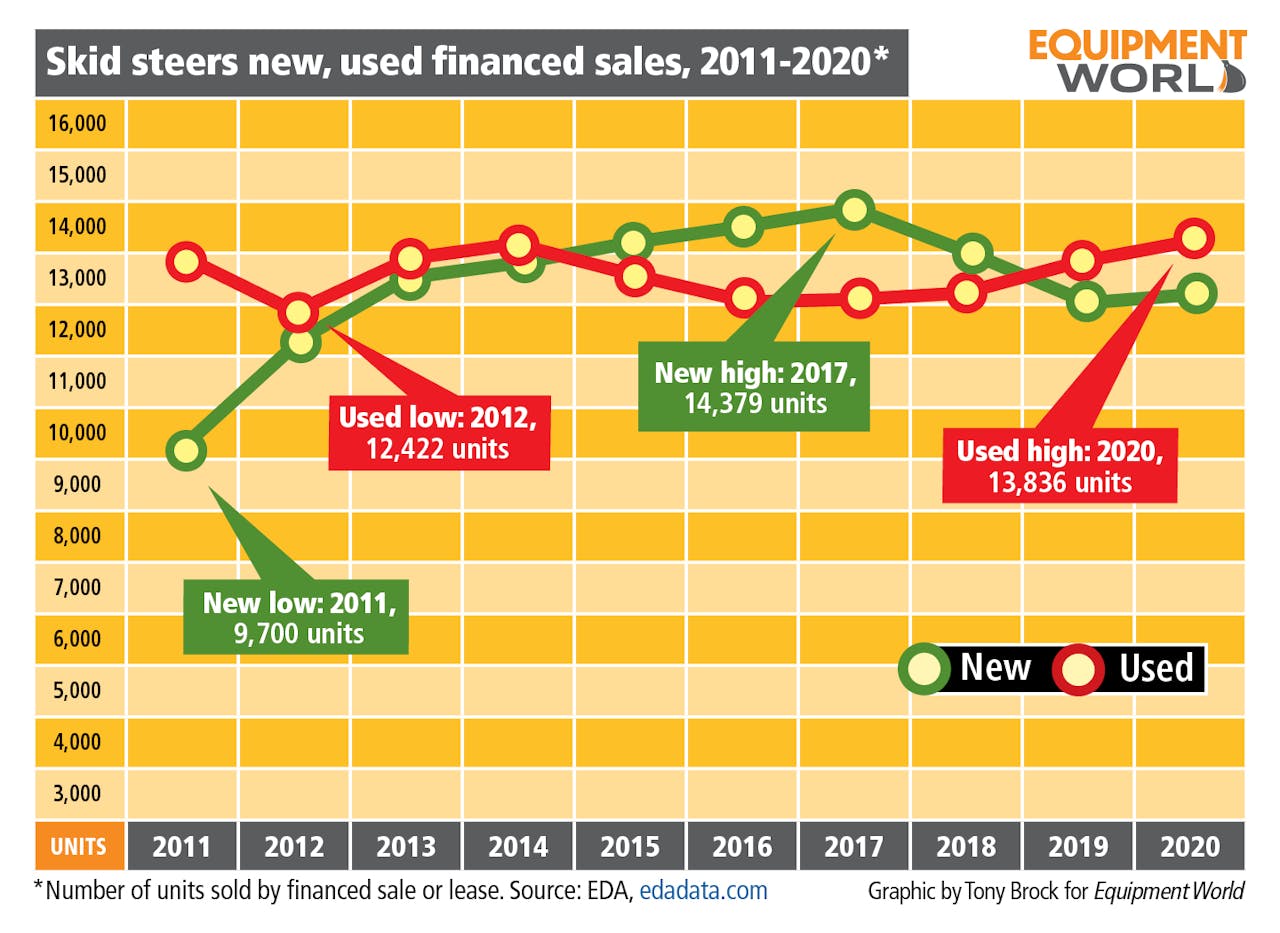 Top financed skid steer models, brands
Kubota, Bobcat, Deere and Cat all appeared in the top financed model list in 2020. The clear leader of the pack was the Kubota SSV75, with more than 1,000 units financed; another Kubota model, the SSV65, placed in the top three with 745 units financed. In between the two Kubota models, the Cat 262D3 came in second place with 865 units financed.
On the used financed side, the top models were the Bobcat S650 (616 units) and the Case SV280 (433 units).
Bobcat was the clear market share leader when looking at financed new skid steer brands for 2020, with 30% of the market. Other top brands included Cat (21% market share), Deere (15%) and Kubota (14%).
Where skid steer buyers are located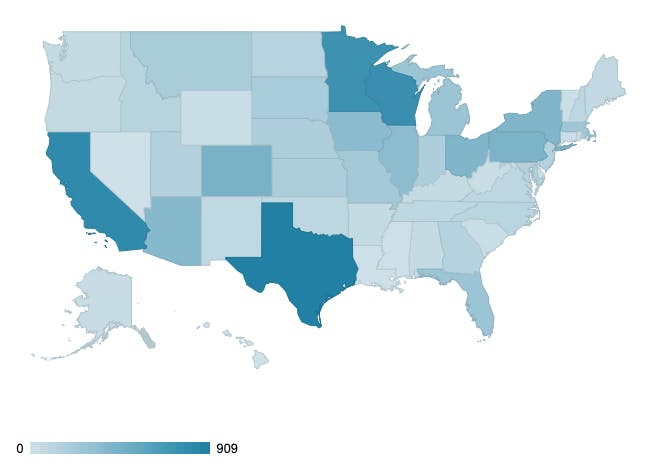 Texas, usually at the top in number of financed buyers for most machine types, lead statistics for new skid steer buyers in 2020.EDAAs with most types of construction equipment, Texas's demographic strength dominates the buyer market. During 2020, there were 909 buyers of financed new skid steers in the Lone Star State. Other hot spots included California (818 buyers), Wisconsin (764 buyers) and Minnesota (746 buyers).
On the used financed side, Minnesota was the top buyer state with 1,296 buyers. Wisconsin followed with 1,106 buyers, and Texas placed third with 983 buyers.
Note: EDA data is compiled from state UCC-1 filings on financed construction equipment. Also note that EDA continually updates this data as information comes in. These numbers were pulled on Mar. 25th. While we believe this represents the vast majority of the data, there may be some adjustments going forward.
At auction
As reported by the TopBid auction price guide, 518 skid steers were sold at auction from Mar. 1, 2020 to Feb. 28, 2021. The average bid price was $20,257 (just looking at machines that had winning bids of $5,000 and more).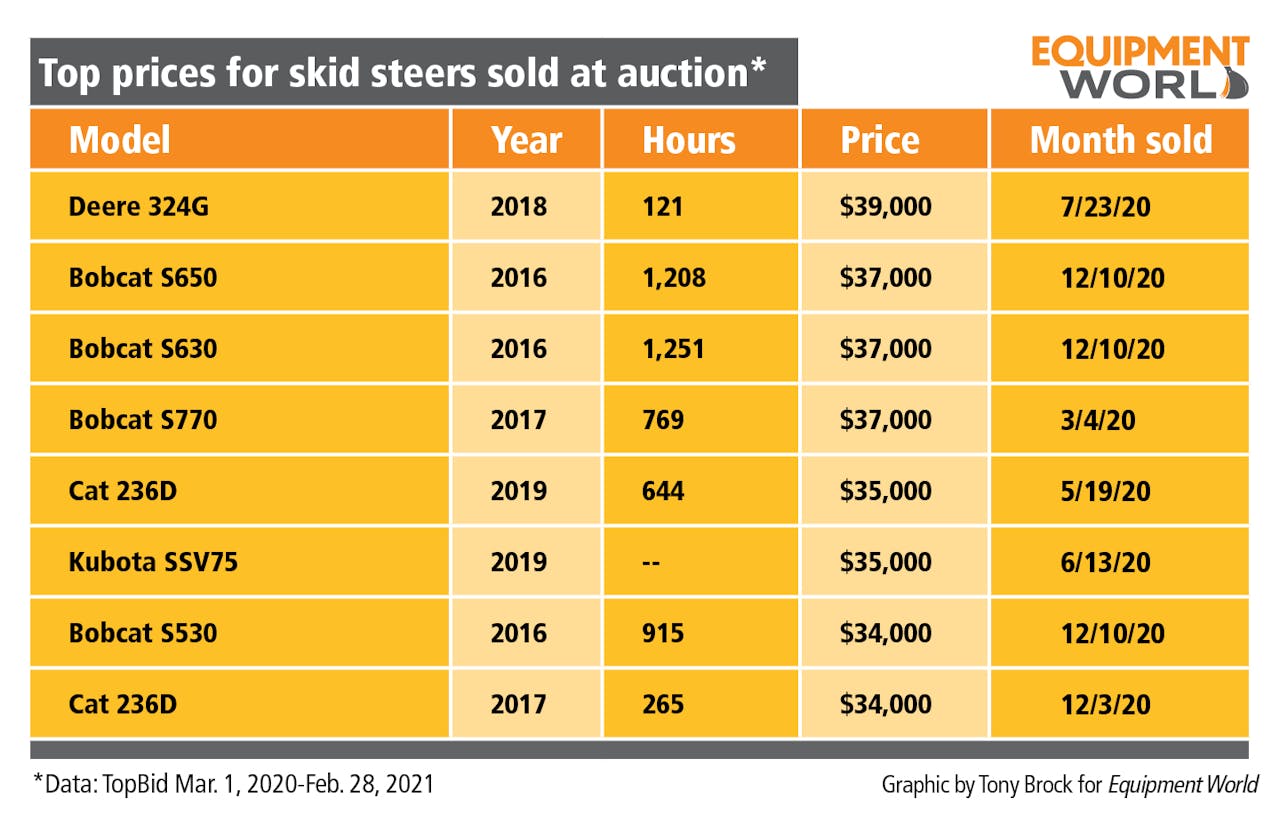 There was a great deal of price parity as you look at the top models sold at auction during this period: machines ranging from 121 to 1,251 hours received amounts within a $5,000 range. A 2018 Deere 324G with 121 hours garnered the top bid of $39,000.
EDA and TopBid are owned by Randall-Reilly, parent of Equipment World.