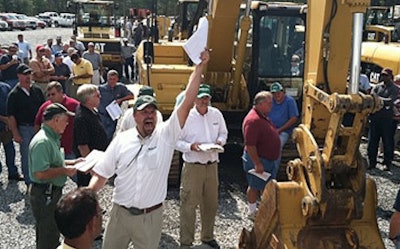 Euro Auctions, with headquarters in Dromore, Northern Ireland, has purchased U.S.-based heavy machinery auctioneer Yoder & Frey. Financial details of the acquisition were not revealed.
The company says the action will "create a stable and strategic partnership from which the local market knowledge of Yoder & Frey, combined with the global market expertise of Euro Auctions, will provide greater options when buying and selling their equipment."
The Euro Auctions sales site in Atlanta will be re-branded as Yoder & Frey in an effort to "strengthen" the Ohio, Pennsylvania and Kissimmee winter consignment auction in Florida. The company says the deal will add six or seven new sales to the Euro Auctions global calendar starting in 2017.
"Working with Euro Auctions, the Yoder & Frey brand will gain exposure to a global market place and increased access to a global database of both buyers and sellers," says Peter Clark, Yoder & Frey CEO. "The equipment that comes along with this association will help grow the Yoder and Frey brand. From working with the Euro Auction's team previously, we are aware of our similar core focus of delivering a quality service and a competitive price, while also never losing sight of our customers' true needs. I believe it will be a good fit for both companies and look forward to a good start together at the Florida auction from February 6-11, 2017."
"We are extremely excited to announce the merger with Yoder & Frey in the USA as this gives Euro Auctions a strong US brand with which to extend the reach the business has globally and achieve a stronger presence there,' says Jonnie Keys, Euro Auctions operations manager. "Yoder & Frey has achieved a leading position in the US market and strategically within the important Florida region. Working with Peter Clark and his team, we aim to expand the operations in the USA, introducing the American market to the global reach of Euro Auctions, whilst building the brand to the good of both Yoder & Frey and Euro Auctions."