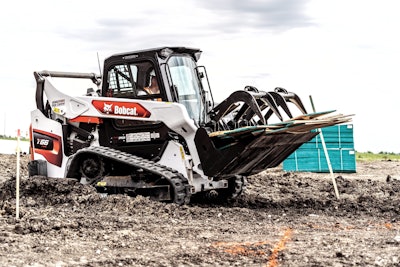 Ford plans to launch electric F-150 by 2022
The chief operating officer of Ford says the automaker will bring its highly anticipated electric F-150 to market "in the next 24 months."
Ford's Jim Farley made the announcement during an interview with CNBC. It's the first time since Ford's confirmation that a battery-powered F-150 was, in fact, in the works that the automaker has discussed a time frame for its release.
To read more, click here.
---
Dynapac combines SD2500CS paver with high-compaction screed to reduce need for rollers
Dynapac says it can achieve 94 percent pre-compaction with its new screeds on its highway-class pavers, including the 20-ton SD2500CS paver it rolled out at ConExpo.
The company added a hydraulic pressure plate to the back of its new tamper, high-compaction electric (TH E) screeds. "That pressure plate is what gets us between 90 and 96 percent compaction off the back of the screed," says Marco Paris, technical specialist. "That's huge, because you literally can almost just run one roller behind this paver, and you'll get your compaction numbers." He notes that typically three rollers are required for compaction behind similar-sized pavers, primarily used for new roads and airport projects or any conditions in which higher compaction is needed before roller compaction.
To read more, click here.
---
Xtreme's new C-class rough-terrain telehandlers feature greater lift capacity, upgraded cabs
Xtreme's three new C-class rough-terrain telehandlers come with additional lifting capacity over predecessors and a new modular cab design for switching to an open or enclosed operator space.
The latest additions – the XR1347-C, XR1547-C and XR1555-C – have lifting capacities ranging from 13,000 to 15,000 pounds and max lift heights of 47 to 55 feet. (The first two numbers in the model name denote capacity, and the last two numbers are lift height.)
To read more, click here.
---
Kobelco's new SK140SRLC-7 excavator combines compact design, long reach
Kobelco Construction Machinery USA has introduced the SK140SRLC-7, with increased power and speed over its predecessor, the SK140SRLC-5, says the company.
With a digging force of 24,800 pounds, the SK140SRLC-7 has a compact design and long digging reach capabilities. The unit has 19-foot 7-inch dig depth and an 11-rpm swing speed, which shortens cycle times by around 10 percent, says the company.
To read more, click here.
---
Bobcat Unveils 4 New R-Series Skid Steers and CTLs: S64, S66, T64 and T66 are Stronger, More Durable (VIDEO)
Bobcat's next generation lineup of skid steers and compact track loaders is expanding with four new 60 frame size, vertical lift models: the S64 and S66 skid steers and the T64 and T66 compact track loaders.
The new loaders join the Bobcat R-Series S76 skid steer and T76 CTL unveiled in September 2019 and launched to the market in February 2020.
You can check out all the details on these new models and how the Bobcat R-Series loader lineup is shaping up in our full video breakdown. Or, if you prefer text, read on at the link after the break.
To read more, click here.
---