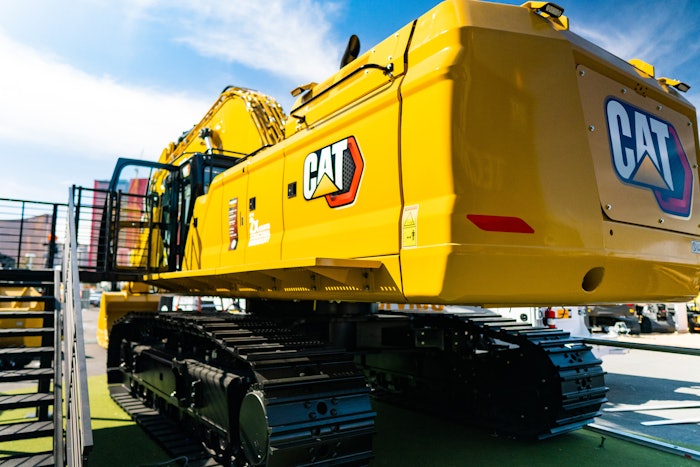 Opinion: The dawn of autonomous construction equipment is upon us
If you think autonomous equipment operation is a pipe dream, you'd be wrong. About as wrong as the contractors who first doubted GPS machine control.
Back in November I attended a prototype demonstration of Doosan's Concept-X autonomous machine technology in Korea. At the demo, we watched an excavator and wheel loader without operators maneuver around the site, dig up a few dozen buckets of dirt and dump them into an articulated truck.
To read more, click here.
---
Cat unveils tiltrotators for its compact excavator lineup
Caterpillar's new TRS6 and TRS8 TiltRotate System (TRS) will bring tiltrotator capabilities to Cat Next Gen compact excavators. Using the TRS, users will be able to use a variety of attachments, including buckets, forks, grapples, brooms, and compactors.
Cat says it is partnering with Rototilt in developing TRS, but that it added design elements that in part have lead to a significant decrease in dealer install time. A unique aspect to this particular tiltrotator design, Cat says, is its quick install time. Cat says it found that installing many tiltrotator models could take as many as 24-36 hours. It says the TRS6 and TRS will only require about four hours of install time.
To read more, click here.
---
Tadano intros 3 rough-terrain cranes with new cabs, engines (VIDEO)
Tadano has redesigned three of its GR rough-terrain cranes with more comfortable cabs, new engines and more lifting capacity.
The series, for the 75- to 100-ton lifting class, was first launched in 2011 in North America and is composed of models GR-1000XLL-4, GR-1000XL-4 and GR-800XL-4.
The new models give operators better visibility of the remodeled cab's instrument panel, and a 20-degree cab tilt function reduces operator fatigue. A new 10.4-inch touchscreen provides access to crane work information and operation settings, and it can be operated while wearing gloves.
To read more, click here.
---
VIDEO: Cat Crowns World's Best Equipment Operator: Meet Canada's Jaus Neigum
During ConExpo 2020, Caterpillar held the finals of its 2019-2020 Global Operator Challenge. When the dirt settled, Canada's Jaus Neigum took home the trophy and the title of World's Best Equipment Operator. Check out the action from the competition and our chat with Jaus in this video.
---
Cat Unveils New 395 Excavator: Bigger, Stronger, Faster 390F Replacement (VIDEO)
Bigger isn't always better. But in the case of the new Cat 395, which was unveiled last week at ConExpo 2020, it definitely is.
The new Cat 395 replaces the 390F and is the largest machine in Cat's next generation excavator lineup. This is a beefed-up, performance-driven machine and one that Cat says is designed to move as much rock and dirt as it can in as little time possible.
You can check out all the details on the 395 in this video.
Or, to read more, click here.
---