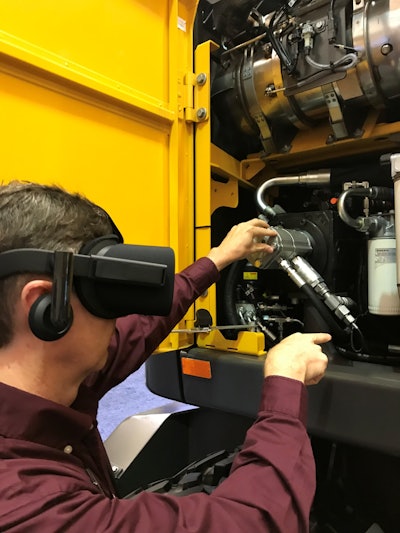 In recent weeks we've published a couple of stories that provide an interesting contrast.
If you click here, you'll find our fourth and final report on the technician shortage. This article focuses on the future of technicians and all the digital tools they will be wielding soon. Click here and you'll find ourour article on the Technician of the Year, who has earned this distinction in large part due to his very analog welding and mechanical skills.
Nobody doubts that the technician career is evolving into a two-tiered field. Every person we interviewed has said as much. But there also seems to be an unspoken assumption that the digital technician is the preferred job, the wave of the future, that these technicians will be better paid and that these jobs are going to draw more young people into the profession.
I agree 100 percent that the digital technology in today's heavy equipment delivers vast improvements in productivity, fuel economy and safety. There's no going back. And we'll need a small army of laptop-enabled technicians to keep these digital systems functioning.
But it would be unwise to think of our nondigital technicians as relics of the past.
When you add up what AEMP's Technician of the Year, John Kelchner, has accomplished with his welding torch alone, you see an impressive contribution to the safety and productivity of his company. It's great to have a sensor that can warn you ahead of time when your oil pressure is dropping or an air filter is clogged. But there isn't a laptop in the world that can fix a crack in a boom, a broken tooth on a bucket or a leaky hydraulic cylinder.
Until dirt turns into digits, heavy construction is still a world of extreme physical forces to be tamed.
There is one other reason the industry shouldn't start thinking that the people who do the "clean" work are on separate career paths from the people who do the "dirty" work. The fact is you need to get your hands dirty first before you can gain the kind of intuitive knowledge you need to solve a machine's problems.
All technicians need to recognize the difference between the smell of burning electrical wire and burning oil. They need to have stripped the threads on an aluminum fastener at least once, so they understand how soft it is compared to steel. They need to hear the difference between a whine in a transmission and one coming off the serpentine belt.
Only after a year or two of this kind of hands-on training can a person have that deep, tactile, physical understanding of the equipment as a base of knowledge on which to understand what the digital systems are reporting and recording.
On their first day of class in Germany, students in the machinist trades are given a square, a file, a slightly irregular block of aluminum and a bench vise. Until they file that block perfectly straight and square on all six sides by hand, they don't advance. They either know the material physically and intuitively or they can't advance. The quality of German cars and manufacturing is a testament to how well this system works.
We would do well to learn from this. By all means, bring on the army of digital technicians, but make them change oil and learn to weld first.