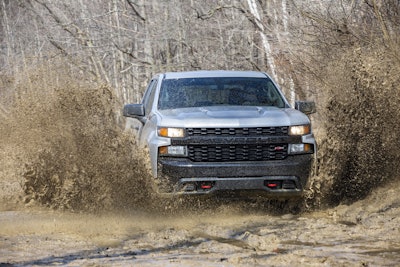 Komatsu expands semi-auto excavator lineup with new PC290LCi-11
Komatsu has added a new model to its lineup of excavators equipped with the company's intelligent Machine Control sensor package.
The new 30-ton PC290LCi-11 is powered by a 6.69-liter Komatsu SAA6D107E-3 engine delivering 196 horsepower and Tier 4 Final compliance through these of diesel exhaust fluid (DEF) and a diesel particulate filter (DPF). You can see the full specs of the machine here.
The model that this new iMC-equipped machine is built upon, the PC290LC-11, was first introduced in 2014. It's a few thousand pounds heavier than that original machine, but features the same engine and hydraulics package.
To read more, click here.
---
Doosan expands mini excavator lineup with three new models from 3.5 to 5 tons
Doosan has expanded its range of excavator sizes with three new mini models: the 3.5-ton DX35-5, the 4-ton DX42-5 and the 5-ton DX50-5.
The three new models join the DX63-3 and DX85R-3 to round out Doosan's mini excavator lineup. With the expansion, the company now offers excavators from 3.5 tons to 60 tons.
To read more, click here.
---
ASV debuts high-torque VT-70 High Output: Vertical-lift CTL has extra power for the most challenging applications
ASV introduced a new Posi-Track loader, the VT-70 High Output, during a recent event held at its headquarters in Grand Rapids, Minnesota. High Output refers to the machine's 207 foot-pounds of torque which helps tackle demanding applications and run more powerful attachments.
The big torque comes from a turbocharged Deutz 2.2-liter engine that cranks out 74.3 horsepower, which is 10 horsepower above what the company's standard VT-70 machine offers. "It makes 74.3 horsepower at 2,600 rpm, but it has an exceptionally good torque curve, which means it also makes 74.3 horsepower clear down at 2,200 rpm," says Buck Storlie, product line manager for ASV.
To read more, click here.
---
GMC unveils 2020 Sierra 1500 with expanded diesel, 10-speed, tech availability
While the latest Sierra 1500 carries on the design language introduced for the 2019 model, several updates for the 2020 model year might make this a more attractive truck for some customers.
For 2020, GMC is expanding the availability of certain premium features to a wider swath of its Sierra 1500 lineup, while also bringing over trailering technology previously only found on its Heavy Duty trucks.
To read more, click here.
---
Chevy's changes for 2020 Silverado 1500 give RST model class-leading towing power
Chevrolet has unveiled its latest Silverado 1500 trucks and engine options and increased power are the primary changes for the 2020 model year.
More than half of all 2020 Silverado 1500 trim levels will be available with the 6.2-liter V8 engine, delivering 420 horsepower and 460 lb-ft of torque, Chevy says. That engine will be paired with a 10-speed transmission.
The 6.2L V8 will also be available on the Silverado RST when equipped with four-wheel-drive. With that combination the 2020 RST trim will be capable of a class-leading 13,400 pounds of maximum towing capacity, Chevy says.
To read more, click here.