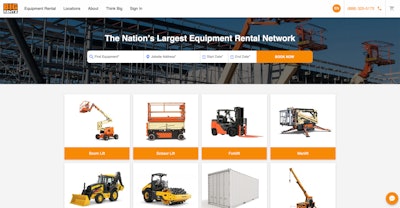 BigRentz, the California-based, online equipment rental service, just made scheduling bulk rentals for future projects a lot easier.
The company has launched a new bulk ordering system that automatically inputs these orders and with less errors.
According to a press release, when construction companies would come to BigRentz with bulk orders in the past, they were inputted manually. The company's associates would take lists of future projects with similar machine needs between as many as 50 to 250 locations, and would put each order in by hand, a process that could take hours to complete.
BigRentz says the old process also resulted in up to a 4-percent error rate.
"We are always striving to improve processes and customer satisfaction, so when we were finding errors in a labor intensive process, we knew there had to be a better solution," says Liam Stannard, chief technology officer at BigRentz.
With the new system, national accounts submit their bulk orders through an Excel file submitted through the BigRentz website or in an email to their account representative. From there, the BigRentz rep double checks the order to ensure all necessary fields are complete before passing it through the new bulk order system.
The system can process bulk orders all at once, and can finish hundreds in as little as 10 minutes, the company says. More importantly it has so far shown to be 100-percent accurate.
Launched in 2012, BigRentz allows customers across the country to place orders for rental equipment online, from any device, 24 hours a day, seven days a week. The company works with thousands of suppliers at nearly 10,000 locations across the country to fulfill orders through its proprietary customer dashboard and fulfillment back-end, QuickRentz.
You can read more about the company's growth and technology in our profile, here.