Coming off a record-breaking year and most recently a record-breaking first quarter, bidadoo President Howard Hawk expects 2019 to be another banner year for sales for the 16-year-old online construction-equipment auction company.
The company has been increasing its sales force and expanding into new markets in Mexico and Canada, as well as in the United States. There's also more supply of used equipment on the market than in the past two years, with more used equipment on the way due to aging fleets, Hawk says, and "demand is still extremely strong."
Sales in the first quarter increased 70 percent over 1Q 2018. In a sign of continued growth, Hawk says, the company has also heard from its major rental company clients that some are "doubling or tripling" their budgets for disposal of their aging fleets over the next few years. Those projections are based on expectations of a steady market, he says, with any kind of market upset accelerating that disposal activity.
An economic slowdown should not hurt bidadoo's performance; in fact, it tends to improve business for auction services because more used equipment enters the market.
"We do well in a good economy for all the right reasons," he says. "And we do well in a down economy as a needed channel for companies that are required to sell equipment as conditions change. If there's a blip or a correction or a flattening in the economy, which I believe is coming, then we'll be there in support of sellers as they look to increase their fleet sales during a potential slowdown."
He also cites the company's partnership with eBay, which has 180 million registered bidders around the world. "Our sellers take advantage of global economics and can sell into countries and areas where demand remains strong."
Hawk notes that the previous tight supply in the used market has been due to a lack of machines manufactured in 2019 and 2010 that would have entered the used market after hitting their seven- to eight-year mark.
"There was a void of equipment going back to 2009, 2010 when manufacturers didn't basically make anything because no one was buying anything," he explains. "That bubble has passed."
Hawk does not believe the market has yet reached a point of oversupply of used equipment.
"There's certainly a healthy supply of used equipment," he says. "I don't know about an oversupply because rental rates are still pretty strong; demand and utilization at the big rental and the big fleet companies is still pretty strong. But you can definitely see the growth flattening out. Utilization rates are beginning to soften up a little bit from the red-hot pace of the last couple of years, meaning the fleet companies will look toward increased used equipment sales."
Prices on used equipment have also not shown signs of falling.
"The construction market is still extremely healthy," he says. "There's good demand, so used equipment prices are still holding very strong."
Many of bidadoo's clients are rental companies and companies with large fleets selling their older equipment and manufacturers selling equipment from lease returns. Buyers are typically small to medium-sized contractors that purchase three to 10 pieces of equipment a year. About 30 percent of equipment is exported.
The company partners with eBay for its online auctions, with about 75 percent of its sales being construction or construction-related equipment, Hawk says.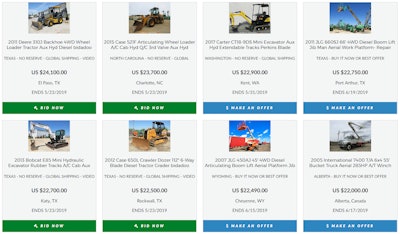 The main sales platform for bidadoo is its weekly no-reserve auctions, in which all items are sold regardless of price. The company also saw 220-percent growth during the first quarter in its online Marketplace, an eBay timed auction that also offers a buy-it-now price or enables buyers to make an offer. Hawk says this format is geared toward those who need to buy a piece of equipment quickly and sellers who want price protection. This process is also beneficial for specialized machines, such as cranes and crushing equipment, that often see wide price fluctuations at live auction.
Hawk says the better deals are still being found at the no-reserve auctions, which account for more than 80 percent of the company's business. "There's a little more volatility and less control," he explains.
"But that's not to say that the auctions always get less than a controlled-pricing marketplace. Sometimes our auctions do just as good or better, because you have the competition, the excitement, the exuberance."
But as buyers have become more sophisticated, sales prices have fewer wide fluctuations.
"The retail price and the wholesale price used to be the two bookends," he says. "You've seen an enormous collapse of that price stratification over time. So there's really not that much price stratification between retail, wholesale, export and auction any longer."
Hawk says the migration from traditional auctions to online auctions will continue. One big reason: sellers aren't required to haul their equipment to a set location before the sale. He says hauling costs can range from 4 to 10 percent of the auction price, and often the sales price is no more than it would be if selling equipment from where it sits and selling it online.
"We sell a lot of our equipment where it sits," he says. "It's a much more efficient model, and you don't have your truckers out for a day or two driving equipment 1,000 miles away to a live sale, in an attempt for an auction company to 'build a sale' large enough to be interesting to potential bidders."
He's also confident about bidadoo's growth, with the development of remarketing technology and services for its large fleet customers. The goal is to become an integral part of the customers' remarketing process for used equipment, from resale to wholesale to auction, and help them manage their equipment inventory.
All of those factors – more services, an expanded sales force and macroeconomic forces – should yield another record year for bidadoo and more to come, Hawk says.
"We expect some pretty substantial growth over the next couple of years."