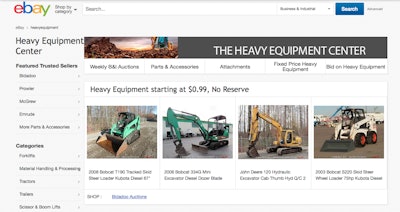 The online marketplace eBay is ramping up its efforts to sell more used heavy equipment.
"There is a step change in how eBay is approaching the business and industrial category, specifically heavy equipment, this year and into 2014," say Rob Francis, who manages the company's business and industrial business units.
On December 1, eBay launched its Heavy Equipment Center, which hosts auctions that close every Thursday night. The Heavy Equipment Center will promote eBay's largest sellers and include not only machines, but parts and accessories.
A look at some of the site's recent high-value closed sales lists excavators, wheel loaders, motor graders, vibratory rollers, dozers, trucks and much more.
"We are focusing on what eBay has always done, bringing a trusted and transparent buying experience, which is a bit different from the as-is, where-is, or buyer-beware model," Francis says. "eBay protects buyers from having a bad experience if they receive an item that is not as described in their listing."
eBay's auction model is also different from those of traditional auction companies in two significant respects: 1) The company allows buyers to rate sellers and 2) it partners with its sellers, allowing them to set up their own eBay Stores on the website. The typical eBay equipment auction is a seven-day, no-reserve auction, Francis says. But sellers can have the flexibility to do auctions with a reserve, fixed price and fixed price with a best offer too.
"We do not compete with businesses, we are partners," Francis says. "It's similar to what we've done with large retailers this year. Target and Best Buy are now selling directly on eBay. Unlike Amazon we don't compete with sellers, we want them to do better."
Bidadoo is one such "company store," and the largest business and industrial seller on eBay. It has grown organically under the eBay umbrella and has sold more than 100,000 pieces over the last ten years.
"One of the reasons we like Bidadoo is that they offer a 100 percent money back guarantee and they have a fantastic feedback rating," Francis says.
"The information we provide is a full inspection report of the equipment," says Howard Hawk, Bidadoo's president and co-founder. "We detail the equipment with photographs. We also do live video and audio of the machine working. And we provide freight estimates and logistics."
Bidadoo offers multiple auction formats, Hawk says, but most of its auctions are classic, no-reserve affairs. The auctions last seven days and close every Thursday—a common timeline for eBay sellers. The company also works with large fleet owners such as United Rentals, Terex and Genie to stock its auctions with a regular supply of used equipment.
"What the eBay platform allows us to do is bring a whole new set of end users to the used equipment world–the guys who don't find the traditional auction very effective, efficient or transparent," Hawk says. "Its a very important decision for them and we give them the information to make that decision intelligently and safely."