Built Robotics and Sunstate Equipment Company have announced a partnership that marks a major step into the future for both companies.
The agreement aims to make Phoenix-based Sunstate the first rental firm to offer fully autonomous construction equipment powered by Built's proprietary technology and aftermarket kit.
For Built, the San Francisco-based startup now beginning to test its autonomous solution for compact track loaders, dozers and excavators on customer jobsites, the deal brings a key expansion in reach when it comes to introducing the technology to contractors.
Through conversations with both Built founder and CEO Noah Ready-Campbell and Sunstate CEO Chris Watts, Equipment World has learned that the partnership will unfold in three phases as Built's technology matures and is deployed on more jobsites in the next two years.
Phase One, which is where work between the two companies currently lies, involves Built continuing development of its aftermarket kit through testing and work on real jobsites through customer pilots. In Phase Two, Sunstate will introduce the autonomous machines to some of its own customers through pilot projects as well. Watts also mentioned the possibility of putting Built machines to work on Sunstate's own projects, like the construction of a new office building for the company in Phoenix.
Phase Three, Watts says, would be a few years down the road when Built machines are a common part of Sunstate's rental fleet.
Ready-Campbell sees the partnership as a way to reach smaller construction companies with Built's technology. The company's primary business strategy will be to sell its aftermarket kits directly to contractors. Up to this point, the majority of contractors that the company is working with or has received interest from are medium- to large-sized firms.
"A lot of our customers have their own fleets and want to install the kit on their equipment, but there's also folks out there who want a turn-key solution and want to rent a machine with our technology already installed," he says.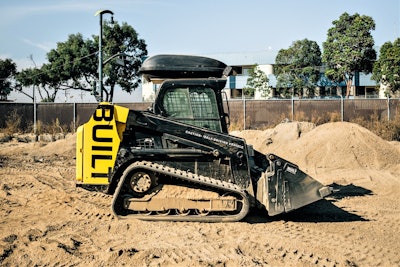 Ready-Campbell adds that because the partnership with Sunstate revolves around rental, it will naturally involve more use of compact machines like the company's compact track loader solution. "[Compact equipment is] where we started and we think there's a real important story there when it comes to autonomy and getting more work out of those machines," he says. In our latest article on the company, Ready-Campbell mentioned that Built does have plans to bring its technology to other equipment types, including compactors and motor graders.
The partnership came about after Built and Sunstate were introduced by Sumitomo Corporation of America about two years ago. Sumitomo is Sunstate's parent company and also a minority investor in Built. Ready-Campbell and Watts said working together felt natural from the very first meeting.
"They've got a tremendous head start and I would put my bets in Vegas on them emerging as the innovative leader for the long run," Watts says of Built. "Besides that, they do have the mindset of how important it is to develop and test the technology properly, ensuring the greatest likelihood of widespread adoption.
"When you hear the volume of dirt that can be additionally moved compared to a human operator in the same time frame, it's a tremendous advantage," he adds.
"Their team got very excited and brought in their sales leadership and [the technology] checked some boxes with them because their customers are struggling with hiring skilled operators," Ready-Campbell says. The Associated General Contractors of America's 2018 workforce survey found that 80 percent of contractors are having a hard time filling craft worker/hourly positions and salaried jobs, which includes equipment operators.
Ready-Campbell says Built is positioning its technology as a way to lessen the load on experienced equipment operators by tasking the autonomous machines with low-level tasks while human operators take on more challenging jobs.
Watts says he expects to pilot Built machines with Sunstate customers at some point in the next 12 months.
"Sunstate is committed to being forward thinking and innovative and we accept the fact that technology will continue to change our industry," Watts says. "We don't want to fight it. We want to be out front.
"Autonomous vehicles are here and autonomous construction equipment is on its way."