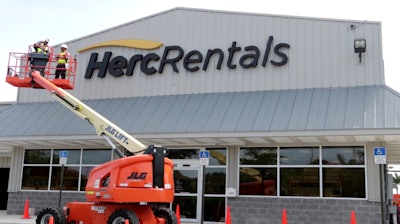 Herc Rentals is reporting a net loss of $6.7 million for the first quarter, despite growth in equipment rental revenue and rental revenue.
However, the nearly $7 million loss for the quarter, which ended March 31, is still a 33-percent improvement over 1Q 2018 when the company lost $10.1 million.
For 1Q 2019, equipment rental revenue rose 2.3 percent to $377.6 million. Total revenue rose 10.3 percent to $475.7 million.
The strong quarter for the company was further highlighted by a 2-percent increase in average fleet at original equipment cost and a 3.8-percent increase in overall pricing over the same period last year.
Sales of rental equipment also increased by 44 percent to $85.1 million. New equipment sales fell 4.5 percent to $10.9 million.
By quarter's end, Herc's total fleet was valued at $3.7 billion with an average fleet age of 46 months. That's down from 49 months on March 31, 2018.
"Our strategic initiatives continued to drive profitability in the first quarter," Larry Silber, Herc Holdings president and CEO, said in a statement accompanying the earnings. "We improved year-over-year pricing by 3.8 percent in the quarter, our 12th consecutive quarter of year-over-year improvement. Dollar utilization increased to 35.5 percent.
"Reductions in both direct operating expense and selling, general and administrative expense contributed to strong flow-through and free cash flow in the first quarter."
As for expectations for full year earnings, Silber says the company is forecasting year-over-year growth between 7 and 11 percent in adjusted EBITDA, which is the company's earnings before factoring in taxes, interest, depreciation, amortization and one-off expenses like costs related to mergers, acquisitions restructuring, etc.
The company is forecasting adjusted EBITDA between $730 million and $760 million for full year 2019.
"We are seeing improvement in demand for rental equipment in the second quarter consistent with the seasonal ramp up in the spring. Current levels of demand combined with positive industry metrics and our continued execution of revenue and cost initiatives reinforce our confidence for another strong year," Silber says.