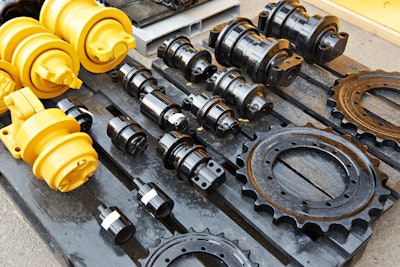 Your dealer management (or business) system should help you determine both what parts to stock and what parts to return — and when its best to perform each process. Usually this is called a "Phase -In/Phase-Out" (PI/PO) report.
Phase-In (PI) looks at the demand history (sales plus lost sales) to suggest a part be phased-in so you have it in stock. You can set the PI criteria to begin stocking parts at different levels of demand and time frames. The Phase-Out (PO) criteria uses the same basic algorithm, but tells you when you should begin to either return parts to suppliers or no longer tag the part for automatic reorder when it has left your shelves.
These two basic functions play a major role in the overall health of your parts inventory. If you don't pay close enough attention to either one your inventory health will suffer and you may not have the part on the shelf when the demand arises. It also may mean that you'll carry the part longer than the demand cycle requires.
Most DMS programs will allow you to set-up different PI/PO rules for different classes or sources of inventory. For example, you might class or source maintenance parts differently in your DMS than you do captive or seasonal parts. You might have different PI/PO rules for these separate classes/sources of parts. You might set a PI requirement of two demands in 12 months for a maintenance part, for instance, and set a PI of three demands in 12 months for captive parts.
And these don't necessarily have to be in 12 months increments. Your DMS may allow you to determine which time frame works best, such as two demands in nine months. As the parts manager, you have the responsibility to understand the PI/PO criteria and alter the parameters to ensure your inventory is coming in as quickly as possible and leaving just as quickly.
The same is true of Phase-Out (PO) criteria; the time frames and other criteria can also be customized according to the type of part or vendor source. You could set a rule, for example, that parts begin to PO after they've seen less than two demands in the past 18 months. Once a part has hit that PO criteria, the system puts that part in a different classification. When you sell your last one — or return the last one — the system will no longer suggest it be re-ordered.
The PI/PO system is crucial to your inventory fill. I would suggest that you ensure that you have separate PI/PO rules for different segments of your inventory. It's not a one-size-fits-all approach. To determine if you have your PI criteria set up correctly, pull a stock order report for a specific source, adjust it, and then pull another stock order report. Look at the new part numbers that are suggested by the report. If the new criteria shows parts you're selling more quickly – and helps you increase your fill rate — then perhaps the original setting wasn't correct.
As parts manager, it's your responsibility to fully understand the PI/PO process and work with it to ensure the best performance for your inventory.