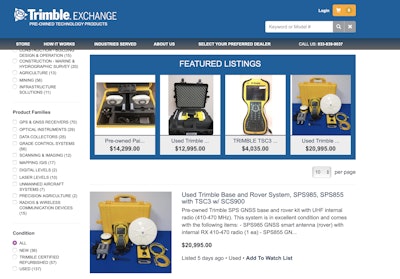 Trimble has launched Trimble Exchange, a new e-commerce platform for U.S. customers in the market for pre-owned, refurbished and legacy products.
The website connects Trimble's SITECH dealer network directly with these customers, and all of the products listed on the site are sold by authorized Trimble resellers.
Trimble says all purchases made on the Exchange are completed through and supported by their local dealer.
Extended warranties are also available. You can check it out now at trimble-exchange.com.
TTrimble Certified Refurbished equipment can also be purchased as well as extended warranties. Using the Trimble Exchange platform, customers get the benefit of local dealer support, ownership verification and Trimble Exchange support.