By Wayne Brozek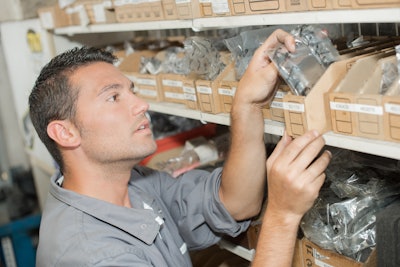 You know what your fill rate percentage should be. You also know what your manufacturers believe it should be. However, are either of these the correct percentage for your dealership?
Several factors will weigh in on what your fill rate percentage should be. First, look at the difference in inventories between the different manufacturers you carry. It makes sense that the fill rate for your mainline manufacturer will be higher than those for supplemental vendors. However, should the fill rate for supplemental vendors be based on the turn of parts from your mainline manufacturer?
I feel the answer is no. We should not base our supplemental vendors fill rate off of our mainline turn. For example, let's say your mainline manufacturer (A) has a turn of four times a year. That number would stand on its own.
Your supplemental vendors, however, might have turns of 1.8, 2.4 and 2.8 respectively, and still be considered healthy. The chances of having the part on the shelf for your mainline supplier is naturally going to be higher than with your supplemental vendors.
Some supplemental vendors offer specialized units that have peak use seasons. As long as the vendor doesn't frequently or significantly change the design or model of its equipment, if you stock the known high failure rate parts you could have a nice fill rate percentage even with a low turn.
Also look at how you are calculating your fill percentage. Let's say your customer needs five parts and you have four on the shelf—would your fill rate be 80 percent or 0 percent? First you need to understand how your mainline supplier is calculating fill rate. One manufacturer may say that four out of five is an 80 percent fill. Another manufacturer, however, might say that four out of five is a 0 percent fill rate because you were not able to fill the entire order. In my way of thinking, if the job requires five parts and you only have four, you fell short, and it counts as a 0 percent fill rate.
Once you have those questions answered, establish a fill rate for "stock status" parts and then an overall fill rate for all parts. Parts managers are responsible for the health of a dealer's parts inventories, and for making sure your customers have quick access to common parts. However, you also have a responsibility to your owners to only stock what is selling. These two factors need to be in balance, making determining the fill rate percentage a real challenge.
It would be helpful if your dealer business system can segregate your inventory into two different buckets: one for high-demand parts (three times or greater turns in a rolling 12-month period) and those that have fewer turns. Using this data, you can analyze your fill rate and make sure that you are stocking what you are selling.
For high-demand parts, what I would call "stock status" parts, your fill rate percentage should be fairly high, 90percent or greater. With lesser-demand parts, what I call "non-stock status parts," the fill rate would be below 90percent. For example, you wouldn't be expected to have a part on your shelf if you've sold it just once in a rolling 12-month period.
There are exceptions to this, however. One is if a particular part is a maintenance item – say a belt or a filter — for a new product. Your customers would expect you to have these in stock.
No matter what our fill rate target is, or what our manufacturers expect it to be, the fill rate that matters most is the one that gets your customers up and running. Our customer's perception is the ultimate judge of whether or not we have the correct percentage.
…
Wayne Brozek has been in product support at the dealer level for the past 30 years. In 2014, Brozek began doing consulting work with parts and service managers in North and South America. His group has a focus on improving parts and service departments by creating customized dealer training and reporting. Contact him at [email protected].
---
Editor's Note: Next up in this series: How to improve your fill rate.