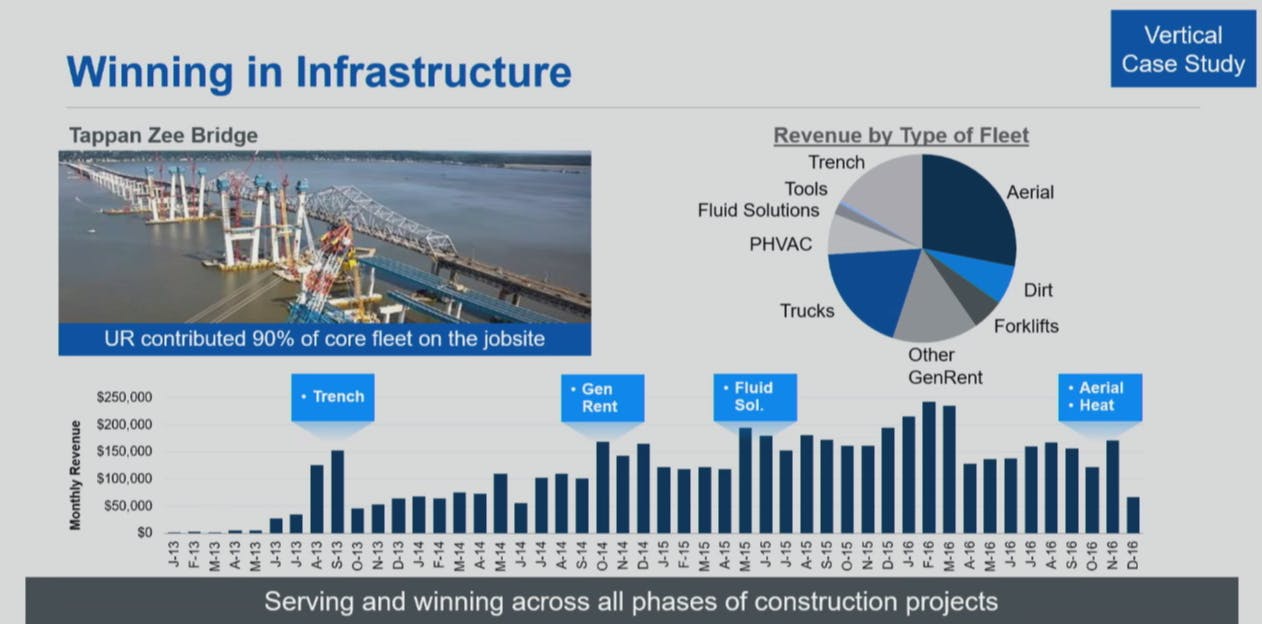 United Rentals expects 2019 to bring it yet more growth as it continues to expand its specialty business and build out organically with acquisitions, company officials reported in an investors' call Tuesday.
As more contractors realize the value of renting vs. owning, the world's largest rental company has transformed to become more efficient and profitable – and it's generating a lot of free cash flow, they say.
Aside from expanding its footprint through strategic acquisitions, United Rentals is focusing on continued growth and competition through its digital and technology developments – as well as by recognizing customer challenges and then providing solutions.
"We're continuing to position the company for enduring success by balancing growth, margins, returns and free cash flow," United Rentals CEO Michael Kneeland told investors at the event in New York City.
"Differentiation is a critical element of our strategy – our business is firmly grounded in sustainable competitive advantages that we believe will benefit our shareholders in any environment."
In the call, the company told of its strategic vision and competitive advantages, as well as plans for long-term value maximization.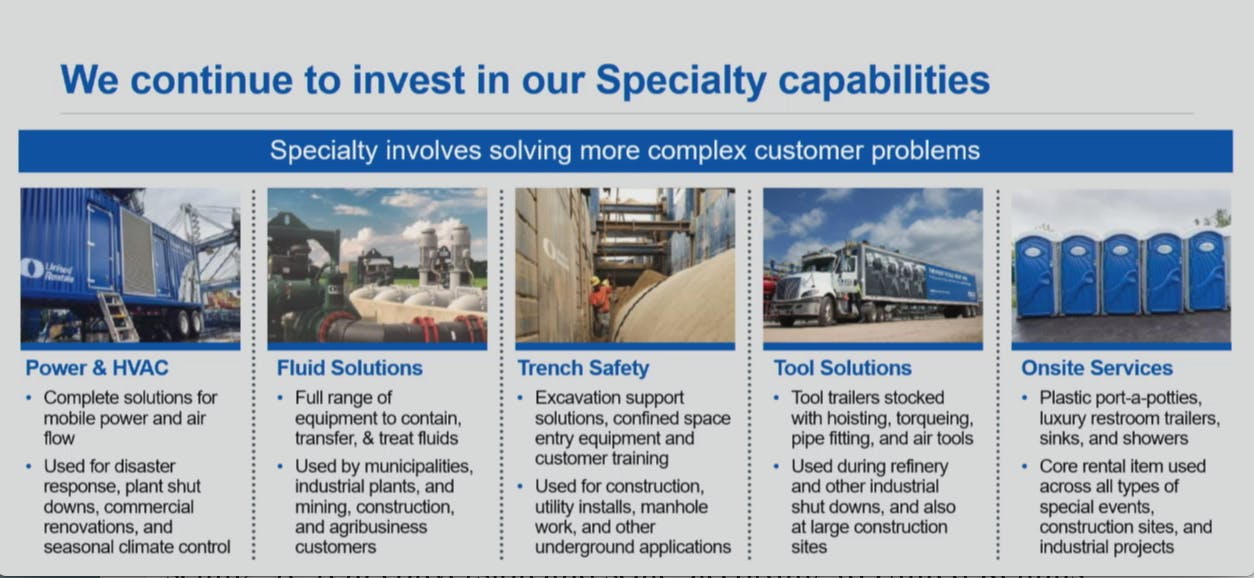 "Our 2019 guidance reflects the healthy momentum we see going into year-end and our confidence that positive conditions will prevail in the coming year," Kneeland says.
"Our five 2018 acquisitions have been successfully integrated, increasing the tailwinds in our gen-rent and specialty segments. We look forward to reporting our fourth quarter results on January 23."
The executives pointed to the BlueLine acquisition in September, saying integration is going well with fleet-sharing, as well as other synergies. United acquire BlueLine for $2.1 billion in cash from BlueLine owner Platinum Equity.
They also pointed to the $715 million acquisition of BakerCorp last summer as well, which they say is helping them lead the industry in trenching equipment. BakerCorp is a multinational provider of tank, pump, filtration and trench shoring rental solutions for a broad range of industrial and construction applications.
With the BakerCorp purchase, for example, the combined company will serve a larger strategic account base with a broader fleet range, including about that were to be 24,000 units acquired at closing. The combination is expected to create significant opportunities for revenue growth and customer service through cross-selling, re-rent conversion and scale, according to United Rentals.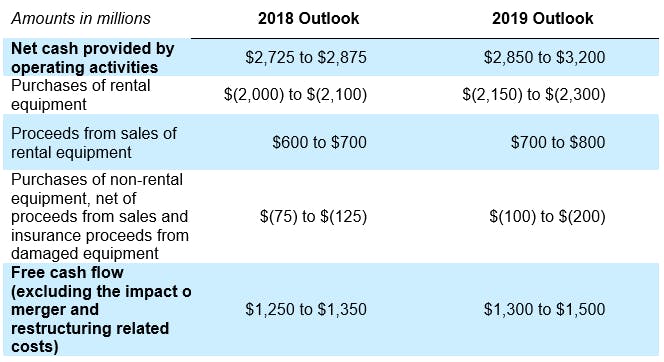 United Rentals says it will focus its competitive advantages across sales, operations, fleet management, technology and digital, people and culture and its financial strength.
Among key goals for the company is to buy the right fleet in the right markets, manage for optimal returns and sell at the right time for the right price.
All indicators suggest that 2019 should be a "solid year" for both construction and industrial end markets, the company says. It will remain focused on balancing growth, margins, returns and free cash flow.
The company also announced Tuesday that it will resume its $1.25 billion share repurchase program this month. The program was began in 2018, with about $210 million of shares purchased through September 30, 2018.
The company subsequently "paused the program" on November 1, 2018 to focus on the integration of the BlueLine acquisition, and now intends to complete the program by the end of 2019, executives say.
The company has an integrated network of at least 1,200 rental locations, mostly all in North America but 11 of them in Europe. It's 18,800 employees serve construction and industrial customers, utilities, municipalities, homeowners and others.
The company offers approximately 3,800 classes of equipment for rent with a total original cost of $14.3 billion.