There were strong increases in both online rentals (versus over-the-phone rentals), location and equipment searches in the second quarter, says the BigRentz online rental site in an exclusive report to Equipment World's Big Iron Dealer.
"Accompanied with the increase of mobile usage, we see these as indications of the acceptance of technology within the equipment rental industry," says Jim Arabia, vice president of marketing. BigRentz connects rental construction equipment suppliers with rental end users using their online platform. In doing this, the company tracks what types of machines are in demand in what locations on its site, and combines this information with internal sales data to provide demand data to its supply partners.
"A large group of our customers base their rental decisions by online convenience – access to product selection, speed of procurement, and ease of payment," Arabia says. "It is indicative of how people are feeling more comfortable renting online and how business practices are changing to a support this behavior." BigRentz says it has seen this online behavior grow dramatically, with more than 30 percent of all orders being placed online (versus a phone order) in the second quarter of 2018.
Second quarter activities
Although California was the No. 1 state in terms of the number of "scissor lift" online site searches during the second quarter, BigRentz says the state dropped to No. 10 when searches for all types of mobile elevating work platforms were factored in.
In addition, the search terms "skid steer" and "Bobcat," sometimes used interchangeably within the industry, had different demand results. For the search term "Bobcat," the states of Kentucky, Minnesota and Louisiana were in the top 10 on the BigRentz site, but dropped to the bottom half of the rankings for the search term "skid steer."
BigRentz looked at demand throughout its network, and found the following states had the highest search inquiries for specific machine types. (Google and Bing search results are combined with proprietary data for formulate this information.)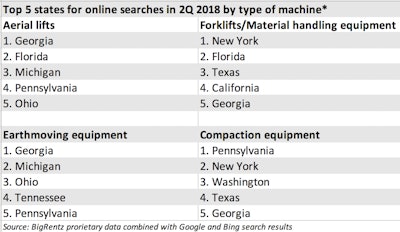 Mobile gains
When looking at how visitors access the BigRentz site, there was a decided shift toward mobile from the first quarter to the second quarter. In the second quarter, 45 percent of the site's visitors accessed it through mobile, compared with 39 percent in the first quarter, a 13 percent increase. In the same time period, users accessing the site through desktop computers decreased by 10 percent, although the majority of users — 52 percent — still used these types of computers.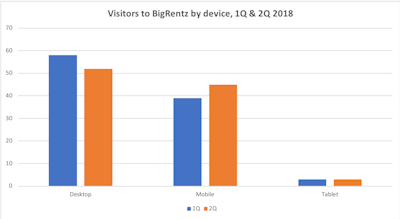 According to Arabia, BigRentz customers are generally divided into three groups: 45 percent commercial construction, 40 percent industrial construction and 5 percent other (residential, sports, entertainment, etc.) One customer, a national stucco firm, used the site to order rentals for more than 400 jobsites in 36 states, he says.