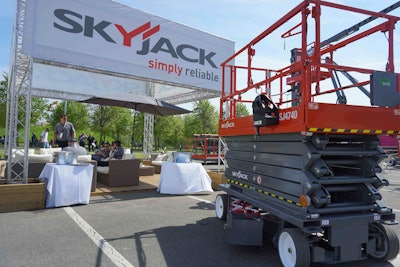 Skyjack showcased its SJ4740 electric scissor lift prototype at the Intermat trade show in Paris last week.
Developed in response to the incoming ANSI mobile elevating work platform standards, the SJ4740's three-year-plus development also offered a chance for Skyjack to address lowering the overall cost of ownership, says Kristopher Schmidt, product manager. "It also gave us the opportunity to come up with a more global machine," he says.
New features include an upper control box with integrated shroud and service friendly components, a SkyCoded control system and diagnostic display, a single-location emergency lowering toggle switch and pothole protection.
The SkyCoded control system integrates the functionality of the motor controller, relays and load sense into one system that requires less maintenance and service. "While some manufacturers have gone to a CAN bus system, we wanted to keep our number coded wiring and integrate into the new module," Schmidt says. "Now its easy to troubleshoot a down machine. Not only does it give you a code, it tells you what's wrong with the machine. And if something breaks, you can still fix it the old-fashioned way using a multimeter. It makes service easier."
The machine's single location emergency E-Lowering toggle switch is integrated in the hydraulic swing-out tray. Unlike current machines, an access rod is no longer needed to reach the relief valve and what used to be a two-step process is reduced to a flip of a switch.
The SJ4740 can also connect to Skyjack's new Elevate telematics system, providing owners with several data points to help manage their machines.
The units also come with pothole protection, directly mounted to the chassis with a simplified mechanical design, according to the company. The machine is driveable at full height with the rollout deck fully extended. Ground clearance has been improved by up to 45 percent, says Skyjack.
Depending on the timing of the release of the new ANSI standards, Skyjack anticipates the SJ4740 to be in production around early 2019.