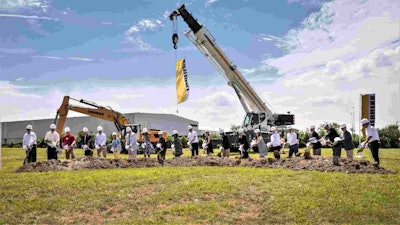 German heavy equipment maker Liebherr's U.S. division has broken ground on an expansion to its Newport News, Virginia, campus that will serve as the company's new corporate headquarters.
During a groundbreaking ceremony Friday, members of the Liebherr family were joined by Liebherr USA executive management and Newport News city officials to celebrate the beginning of construction on a $45 million expansion project that will add three new buildings and increase the size of the Virginia campus by 40 percent to more than 800,000 square feet.
The new buildings will total 251,000 square feet in size and include a four-story administrative building, a warehouse and parts distribution center, and a production and workshop facility for the company's cranes, construction and concrete divisions. The new buildings will house Liebherr USA employees working in administration, finance, marketing, human resources, sales and service, product support, production and distribution across eight product divisions.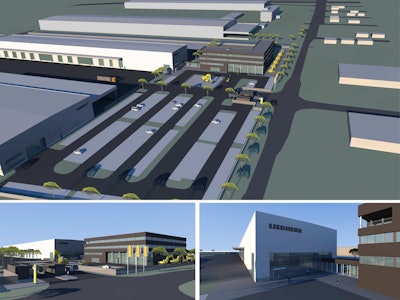 The project is expected to be completed in 2020.
Liebherr USA has been operating in Newport News since 1970 and currently employs more than 400 people there. In  the 48 years since, the company has opened a total of 13 U.S.-based facilities in locations across the country that perform manufacturing, service and sales duties. The company says the expansion of its Virginia HQ is integral to its plan to continue the growth and support of its U.S. market share.
"The U.S. is a strategic market for Liebherr and with this investment we send a clear message of commitment to our customers, employees and the local community here in Newport News," Torben Reher, Managing Director of Liebherr USA, said in a statement.