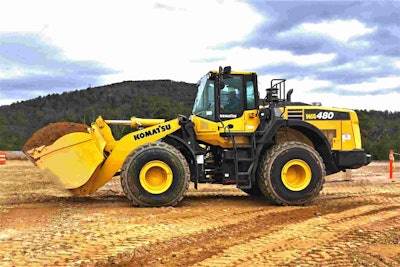 Bobcat unveils V723 VersaHandler, a low-profile tele with no DPF
Bobcat has expanded its line of telehandlers in the 7,000- to 8,000-pound size class with its V723 VersaHandler, giving the machine a low profile to easily maneuver job sites yet still handle heavy loads.
The V723 can handle loads up to 7,700 pounds at max lift height of 22 feet, 10 inches with a boom pivot made of thick reinforced steel. The company also added protection for vital parts and brackets to support heavy loads, which reduces stress on the boom, pivot point and chassis. Heavy-duty enclosed frame welds reinforce the telehandler's frame.
The V723 runs on a turbocharged, 100-horsepower Bobcat diesel engine that doesn't require a diesel particulate filter for Tier 4 Final compliance. That's because the company says its combustion-chamber design minimizes particulate matter. The engine has also been side-mounted to increase visibility and maintenance access, and its sides and bottom are protected by a thick steel frame. Rubber engine mounts reduce shock.
To read more, click here.
---
New Gehl RT215/Mustang 2150RT compact track loaders pack more pushing, lifting power
Manitou has taken the wraps off of two new compact track loaders the company says push more material and lift heavier loads.
The Gehl RT215 and Mustang 2150RT have rated operating capacities of 2,150 pounds at 35 percent of tipping load and have a lift height of 10 feet, 8 inches. They run on a 72-horsepower Tier 4 Final Yanmar diesel engine.
Standard and optional high-flow auxiliary hydraulics can handle a variety of attachments. The CTLs feature a welded chassis for stability and smoother ride.
To read more, click here.
---
Gradall intros new Discovery Series digger atop Freightliner M3 as "first crossover" excavator
After introducing the first models as a versatile remedy for storm cleanup late in 2017, Gradall is back with an updated version of its Discovery Series excavator lineup.
While the previous generation models were built atop the Freightliner M2, the new models are now perched atop Freightliner's M3 truck chassis. With a full tilting, telescoping boom and easy travel between jobsites, Gradall is calling these new machines the industry's first "crossover excavators."
Gradall says the machines deliver "more dig for the dollar," by being capable of doing the work of "several different machines." Thanks to a range of quick-change attachments and its triangular boom that tilts 220 degrees, the company says Discovery excavators can perform ditching, grading, replacing culverts, landscaping, mowing, vegetation control and street and sidewalk repairs.
To read more, click here.
---
Test Drive: International HV Series is a comfort-focused workhorse
Severe duty and driver comfort aren't two things that usually go hand-in-hand, but the inspired refinement of International's HV Series lineup brings fit-and-finish to an unfamiliar place: the worksite work horse.
Featuring the same imposing hood and grille, the HV appears to be little more than a gussied up WorkStar – and for good reason. The Lisle, Illinois, truck maker used feedback from more than 100 vocational customers to shape the cab design features. With aerodynamic efficiencies well down the wish list, interior and safety upgrades got most of the attention.
The weather on my test drive – a warm, clear Summer day in New Carlisle, Indiana – couldn't have been more picturesque and the visibility through the glass could hardly have been more panoramic.
To read more, click here.
---
Komatsu's new WA480-8 loader ups productivity with new bucket and dig system, nixes steering wheel
Komatsu has introduced the latest version of its WA480 wheel loader with updates the company says have improved operator comfort while increasing the machine's productivity and fuel efficiency.
The new WA480-8 is powered by a new Komatsu SAA6D125E-7 Tier 4 Final engine. The 11-liter engine delivers 299 horsepower while using 20 percent less fuel than its Tier 3 predecessor, Komatsu says. The engine meets Tier 4 requirements through a diesel particulate filter (DPF) that handles 95 percent of regeneration passively, with no action required of the operator and no interference to operation of the machine.
To read more, click here.