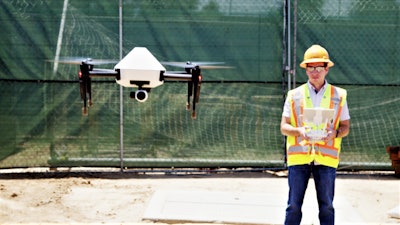 According to DJI, Komatsu recently made drone history by placing the single largest order for commercial drones yet seen.
China-based DJI, makers of the wildly popular and easily recognizable Phantom series of quadcopter drones, is the leading manufacturer of civilian drones. But the 1,000 drones Komatsu has ordered are vastly different from those you can grab off store shelves or from Amazon.
Apart from it being the largest order DJI has seen, the Komatsu order is also the first time DJI has made a custom drone for a partnering company. The drones are designed to integrate into Komatsu's Smart Construction service. Currently in Japan only, Smart Construction is a drone-assisted, automated equipment service launched to alleviate the burden of the country's severe shortage of skilled workers. Smart Construction combines Komatsu's intelligent Machine Control with jobsite surveys provided by drones and 3D laser scanners with the goal of automating pre-foundation work.
As of December, Smart Construction had been deployed at more than 4,000 jobsites across Japan.
Though DJI is manufacturing the drones on its Matrice 100 enterprise platform, much of the underlying technology comes from drone data company Skycatch.
The drones will run Skycatch's High Precision package and will be packaged with an Edge1 RTK base station, which the companies call a "highly powerful ruggedized computer with software that locally processes drone images into precise 3D models regardless of wireless connectivity and location."
Dubbed the Skycatch Explore1, Komatsu's custom drones will fly over jobsites to create "highly accurate 3D site maps," according to a DJI and Skycatch press release.
"Conducting a site survey using a drone used to take hours. However, by implementing Explore1, users can carry out surveying quickly and easily. Now it is possible to perform drone surveying every day. Taking off, landing and flight route setting are all automated. Ground Control Points (GCPs) are no longer needed. 3D data is immediately generated and an entire construction site can be visually checked with the 3D map. The Explore1 is a true game changer for the construction site," says Chikashi Shike, executive office of the Smart Construction Division at Komatsu.