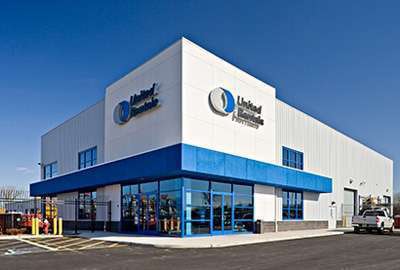 Reflecting strong industry growth and acquisitions, United Rentals is reporting a 25.1 percent jump in rental revenue for the first quarter of 2018, compared to a year ago.
Total revenue was $1.734 billion and rental revenue was $1.459 billion for the first quarter for the rental giant. That's compared to $1.356 billion and $1.166 billion, respectively, for the same period last year.
Within rental revenue, the company says, owned-equipment rental revenue jumped 25.4 percent. That reflects increases of 26.1 percent in the volume of equipment on rent, and 1.9 percent in rental rates.
"We reported a good start to the year, with both rates and volumes benefiting from broad-based demand," says CEO Michael Kneeland. "Our specialty segment continued to outperform, aided by strong market growth and cross-selling opportunities, and trends remained positive in Canada."
Kneeland referred to United Rentals completing its acquisition of Neff Corporation on October 2, 2017, for a total purchase price of $1.3 billion.
"We're also pleased with the progress the team has made integrating Neff, where we remain on-track to deliver our 2018 synergies goals," he says. "Combined, we are well positioned for the seasonal upturn in customer activity."
The Neff deal marks the second major acquisition by United Rentals last year. In April, 2017, it completed a $965 million purchase of NES Rentals Holdings.
"Our confidence extends to both our immediate operating environment and the durability of the cycle," says Kneeland.
A year-over-year increase in used equipment sales primarily reflects increased volume, driven by a significantly larger fleet size; a strong used equipment market; and the timing impact of earlier recognition of certain sales in 2018, United Rentals says.
"Virtually all indicators point to market growth, which supports our reaffirming our outlook for the year," Kneeland says.
"We're also pleased to announce that our board of directors has authorized a new $1.25 billion share repurchase program to commence when the current program is complete."
As of March 31, the company had completed $832 million of repurchases under the program, which the company intends to complete by mid-2018.
Once this repurchases are completed, a new $1.25 billion share repurchase program will start. The company intends to complete the new share repurchase program by the end of 2019. The board of directors authorized this new program on Tuesday, April 17.
Highlights of first-quarter 2018 earnings
Pro forma rental revenue increased 9.9 percent year-over-year, reflecting growth of 6.8 percent in the volume of equipment on rent and a 2.7 percent increase in rental rates.
Time utilization decreased 80 basis points year-over-year to 65.2 percent – largely reflecting the impact of the NES and Neff acquisitions. On a pro forma basis, time utilization decreased 20 basis points year-over-year.
The company's Trench, Power and Pump specialty segment's rental revenue increased by 36.5 percent year-over-year, primarily on a same store basis. The segment's rental gross margin improved by 170 basis points to 46.1 percent.
The company generated $181 million of proceeds from used equipment sales at a GAAP gross margin of 40.9 percent and an adjusted gross margin of 54.1 percent. That compares with $106 million at a GAAP gross margin of 43.4 percent and an adjusted gross margin of 50.9 percent for the same period last year.
Fleet valued at $11.39 billion
The company offers approximately 3,400 classes of equipment for rent with a total original cost of $11.39 billion. That's the size and value of the rental fleet as of March 31, 2018, compared with $11.51 billion on December 31, 2017.
The age of the rental fleet was 47.5 months on an OEC-weighted basis at March 31, 2018, compared with 47.0 months at December 31, 2017, the company says.
The company has an integrated network of 1,002 rental locations in 49 states and Canada, and it employs about 15,000 people.
United Rentals says it is the largest equipment rental company in the world.
Continuing benefits from tax reform
The first quarter of 2018 includes a net income benefit associated with the Tax Cuts and Jobs Act enacted in December 2017, which slashed the corporate tax rate from 35 to 21 percent.
That tax reform contributed an estimated $0.37 to earnings per diluted share for the first-quarter 2018, the company says.
The tax reform benefits became evident in the fourth quarter of 2017.
Net income for that quarter shot from $153 million to $897 million ($10.45 per diluted share) due to a $689 million benefit associated with the tax reform bill signed by President Donald Trump late last year.
The combination of a lower U.S. federal tax rate at 21 percent and the full expensing of capital spending promised to materially exceed the impact of the repeal of Like-Kind Exchange provisions, which had allowed for the deferral of taxable gains on the sale of used equipment.
2018 outlook stays strong
Last January, the company forecast that the tax reforms would benefit its 2018 free cash flow by at least $250 million – an expectation incorporated at that time into the 2018 outlook. Now, the first-quarter 2018 earnings report shows net rental expenditures forecast at $1.2 billion to $1.35 billion, after gross purchases of $1.8 billion to $1.95 billion.
Total revenue for the year is expected to range from $7.3 billion to $7.6 billion.
Adjusted EBITA is expected to be $3.60 billion to $3.75 billion.
Says Kneeland: "We remain focused on maximizing our value given the strength of our cash flows and capital structure."
For more details on United Rentals' 2018 first-quarter earnings, click here.