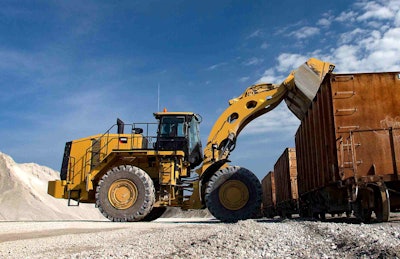 Caterpillar N. American dealer retail sales rise 23% in Jan.
Caterpillar North American dealer total machine retail sales continued their double-digit rise, with January sales rising 23 percent compared to the previous year, mirroring December's 23 percent year-over-year rise.
Looking at just the construction portion of these retail sales statistics, North American Cat dealers saw a 22 percent year-over-year rise. The biggest construction equipment gainer continues to be the Asia/Pacific region, which saw increases of 59 percent compared with the same period last year.
To read more, click here.
---
Fecon opens up its dealer portal to end-use customers
Fecon is now allowing end-use customers access to the web portal called FeconConnect, which previously could be accessed only by its dealers.
That means customers registering their products with Fecon can get the same technical documentation that previously was exclusive to authorized dealers. The new approach is in response to market demand, Fecon says.
"Customers increasingly want access to a self-service platform that empowers them to be more informed about their products," says Kevin McCann, vice president of product support.
One big advantage comes when a customer contacts their dealer's parts department to order spare parts.
To read more, click here.
---
Cat appoints new VP of building construction products division
Caterpillar Inc. announced the appointment of Tony Fassino as vice president of its Building Construction Products (BCP) Division. Fassino replaces Ken Hoefling, who recently left the company to pursue other opportunities.
"Tony brings great product knowledge and a strong focus on quality to this role, which combined with his deep marketing and dealer background, make him ideally suited to lead BCP," says Bob De Lange, Caterpillar group president of Construction Industries, in a press release.
To read more, click here
---
Ariz. dealer wins top award at 2017 Ditch Witch honors
An Arizona dealer has been presented with the highest award given for excellence by Ditch Witch.
KenDitch Witch, a Charles Machine Works Company, is honoring individuals and dealerships that have exemplified the highest level of product support and service worldwide throughout 2017.
Jon Ahlman of Ditch Witch of Arizona received the 2017 Harold Chesnutt Award. The annual award recognizes the parts manager in the worldwide Ditch Witch dealer network who best exemplifies the enthusiasm and dedication Harold Chesnutt brought to his profession for more than 30 years.
To read more, click here.
---
Elliott celebrates 70 years of making truck aerial devices
As post-World War II America was building its electrical grid and interstate system, Richard Elliott of Omaha, Nebraska, introduced his truck-mounted telescoping aerial work platform and crane.
Starting in 1948, he would build just one machine at a time, mounted on a conventional truck chassis. He would drive them across the United States stopping in cities along the way to demonstrate their function and versatility.
So began the beginnings of the Elliott Equipment Company, which is celebrating its 70th anniversary in 2018.
To read more, click here.
---
Texas-based Closner Equipment is the Roadtec outstanding dealer of the year
Texas-based Closner Equipment Company was recently honored with the Roadtec "Eagle" Award for Top Dealer of the Year 2017. The award was presented by John Irvine, Roadtec president, to Bennett Closner, president of Closner Equipment, in Las Vegas during the Associated Equipment Distributors (AED) Summit.
"This is the inaugural year of the Roadtec Eagle Award, and we wanted to set the bar high," Irvine says. "Closner demonstrates everything we look for in a dealer. We look for dealers that have our Astec Industries Core Values in servicing customers. We are proud to have them in our dealer network. They earned this award with outstanding performance in supporting our good Texas customers."
To read more, click here.