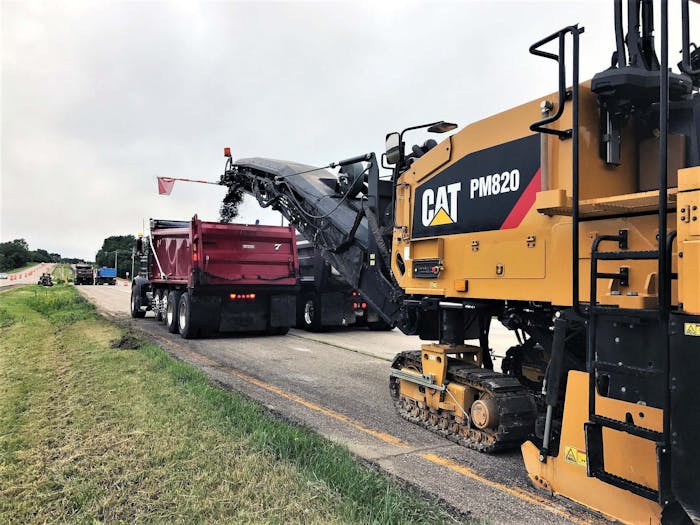 Cat intros PM820, PM822, PM825 cold planers with grade control integration
Caterpillar has introduced three new cold planer models that the company says are capable of controlled, full-depth removal of asphalt and concrete pavements in a single pass.
The new PM820, PM 822 and PM825 are each powered by a Cat C18 engine producing 755 horsepower. The turbocharged C18 features an air-to-air after-cooling system with a variable-speed fan. Cat says the engine "responds quickly to operating demands while keeping exhaust temperatures low and maintaining needed airflow."
To read more, click here.
---
Liebherr debuts new telehandler lineup with no plans for a North American launch
Although the company says North America is the second market for telehandlers—behind Europe—Liebherr says there are no immediate plans to make its new telehandler lineup available here.
Liebherr announced three years ago that it was developing a telehandler series, and used an international press event in late October to unveil the actual iron. The company says it will launch eight new telehandler models in 26 different versions throughout next year.
To read more, click here.
---
Manitowoc designed new Grove GMK4090 all-terrain crane for tight jobsites
Manitowoc says it emphasized road travel and maneuverability when designing its new Grove GMK4090 all-terrain crane.
The 100-ton-capacity crane can travel with a maximum 20.2-ton counterweight and transport up to 10 tons without the need for an additional transport truck, the company says.
To read more, click here.
---
Test Drive: Mack's refreshed Granite boosts comfort
Mack's Granite, the best-selling conventional straight-truck in the U.S., is getting a light refresh. For the coming model year, the worksite workhorse is taking a driver-friendly slant with an all-new interior and LED headlights.
Mack used feedback from thousands of drivers on their preferences, which the company used to drive the design of a redesigned cockpit that includes a new gauge cluster and a dash layout that improves visibility and readability putting frequently used controls at the driver's fingertips.
To read more, click here.
---
Liebherr details testing on diesel-electric T 236 haul truck prototype
Unveiled as a prototype last year at MINExpo, Liebherr's 100-metric-ton T 236 is now going through field testing at the Erzberg Iron mine in Austria. Editors got a look at the diesel- electric drive truck in its test environment at a press event held in late October.
"The Erzberg mine gave us a package of testing capabilities that are rare," says Dr. Burkhard Richthammer, managing director of design and engineering, Liebherr Mining Equipment. For example, the mine has an existing fleet of 100-metric-ton trucks, offering Liebherr a way to directly compare the T 236 with competitive machines.
To read more, click here.