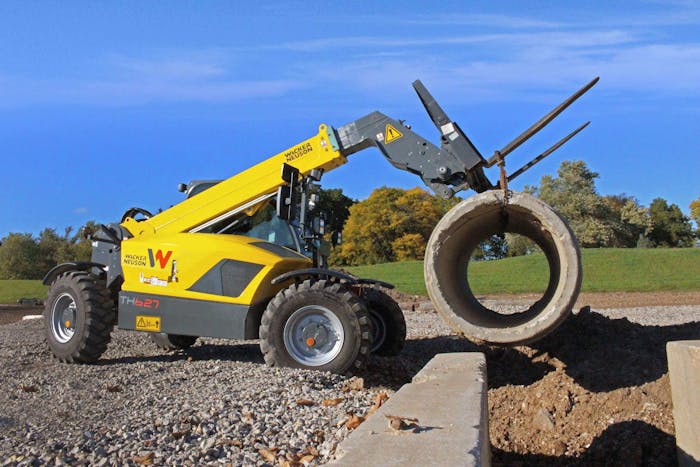 Wacker Neuson is reporting record first quarter revenues with strong sales growth in the company's Europe and Americas markets with gains in both the construction and agricultural sectors.
First quarter revenues climbed to €338.5 million ($378.5 million), up 7 percent from 1Q 2016. Profit however fell 18 percent to €9.3 million ($10.4 million).
With this quarter in the books, Wacker Neuson is forecasting growth between 3 and 7 percent for fiscal year 2017 with total sales landing somewhere between €1.4 billion and €1.45 billion ($1.56 billion to $1.62 billion).
"The year has got off to a very promising start for our Group," Wacker Neuson CEO Cem Peksaglam said in a statement accompanying the company's earnings report. "The investment mood among many national and international customers in most of our target industries was very positive. This pushed our revenue to a new record high for a first quarter."
Deere & Company's net income grew 62 percent in the second quarter of its fiscal year 2017, which ended April 30. Net income rose to $820.4 million compared to the $495.4 million in the same period last year.
Net income for the first six months of the year reached $996.2 million, compared to $749.8 million for the first six months of 2016. Net sales and revenues worldwide grew 5 percent for the first quarter, to $8.28 billion, with net sales for equipment operations reaching $7.26 billion, up about 2 percent.
"John Deere reported strong results in the second quarter as market conditions showed signs of further stabilization," says Samuel R. Allen, chairman and CEO. "We are seeing modestly higher overall demand for our products, with farm machinery sales in South America experiencing a strong recovery. Deere's performance also reflects the sound execution of our operating plans, the strength of a broad product portfolio, and the impact of our actions to develop a more agile cost structure. As a result, we have raised our forecast and are now calling for significantly higher earnings for the full year."
A snapshot of new and used sales trends from Randall-Reilly's Equipment Data Associates and TopBid auction price service.
View the infographic details here.
Conventional wisdom has it that skid steers rule on hard surfaces and in tight quarters. Hard surfaces chew up expensive treads on compact track loaders, and confined spaces make other machines look like drunken bulls compared to skid steers' nimble nature.
Is that enough to keep skid steers in your fleet? Maybe, maybe not. But skid steers are versatile and offer a host of appealing features.
"Skid steers are good at lift-and-carry," says Eric Dahl, Bobcat loader product specialist. "They're good for applications that tend to be less demanding. And they have a great balance of traction and travel speed that make them effective at snow removal."
Things were getting better for Roy Chipley.
After a successful but demanding career with Lockheed Martin began hurting his marriage, Chipley realized that changes must be made. His wife, Sian, led him back to church where he had given his life over to Jesus Christ. The couple renewed their wedding vows and were getting ready to build a house, "starting afresh with restored purpose," Chipley says.
But in the middle of his life's reconstruction, Chipley had a troubling realization. Just as he had grown distant from his wife, he had also grown apart from his and Sian's hometown of Florence, South Carolina. Cape Canaveral was some 450 miles away, and the distance had also driven a wedge between Chipley and his family.