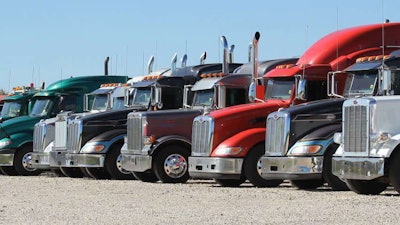 Correctly assessing a used truck's value and setting a price have never been easy. It's certainly no easier when selling today's used trucks, with engine technologies that differ due to evolving emission standards, as well as other truck engineering and design changes.
Evaluation begins the instant a dealer is presented with an acquisition opportunity. Assessing condition and performance is complicated, says Keith Ely at KEA Advisors. Lacking a perfect way to assess condition, and without a sure formula to determine how much condition, specifications and age should determine price, dealers are forced to weigh each factor independently and set a price on their own.
Most dealers are good at determining value for trucks that share their nameplate, says John Whitnell, president at Whitnell Analytics. Other brands are more challenging for dealers. "They don't have the history with it," he says.
In these situations, other dealers, wholesalers and auction companies can be valuable resources, say Whitnell and Ely. "A lot of our clients have that group of four or five guys they can trust and that have a pretty good understanding of value that they can lean on," Whitnell says.
Industry groups can help as well, adds DTNA's Angelique Pierce, used truck manager of marketing pricing and former Used Truck Association (UTA) secretary. Pierce says UTA offers workshops on vehicle evaluation, and addresses the topic at its events.
Use caution in accepting trades
Having that strong base of resources to cover all brands is a key way for dealers to avoid used truck sales disasters by being highly selective about what they accept on trade in the first place, says Whitnell. Dealers can't let the allure of a large new truck order stop them from doing their homework on potential trade vehicles, he says.
"You can work through a mistake on one truck, but if you make a mistake on a 500-truck package … that's where people really get hurt," Whitnell says.
He says a used truck manager should assess the value of possible trade-in vehicles during all potential order discussions.
Once the evaluation is complete, Whitnell advises the manager to provide the results to the salesperson and dealer principal before the order proceeds. That information also can be presented to the fleet, ensuring each party is aware of the parameters that need to be met for the dealer to profit on the transaction.
"If you [as a used truck manager] can go to your boss and say 'Here are 14 trucks like the ones in this deal, here's what they were sold for and here's what we need to get for them to make this deal,' that's really valuable information," Whitnell says. "It might not stop the deal, but at least then everyone knows the situation and what needs to be done."
"Typically, you're going to make more money on a truck you buy than on a truck you trade for, because you'll buy outright at closer to market price," says Craig Kendall, UTA president and specialty markets manager for The Pete Store. "If you paid too much, you are managing a loss, and if you're waiting on markets to get better (to sell), you're playing a dangerous game."
Set an optimal sales price
A dealer who's done the research to establish the general value of used trucks before acquisition is a step ahead of competitors when it comes to pricing.
"The majority of dealers today simply don't have any idea of what the market demand is for their inventory, so they struggle to set a competitive price," Ely says.
Even if a used truck operation did its due diligence on newly acquired trucks, it still needs more than just its own sales records to make pricing decisions. However, used truck sales data tends to be dispersed among different sources.
TruckPaper.com shows where and at what price trucks are for sale, but does not update with final sales prices. It allows users to refine searches based on location or spec'ing information, but does not offer comprehensive data sets for the information it has on hand.
The information is out there, but analyzing it is "time consuming," Ely says. "You have to do the research and get the data, then make all of the calculations by hand."
J.D. Power Valuation Services offers a monthly Guidelines report that provides average wholesale and retail pricing for various types of trucks and even some specific brands and specs.
Whitnell Analytics has started compiling its client data, presented in aggregate and as unidentified individual numbers, as part of a quarterly newsletter, Whitnell says. The simple format allows users to identify pricing trends in seconds that would otherwise take days.
Ely says recognizing trends from other sales allows dealers to set more educated initial prices, which ideally reduce the time it takes for used trucks to sell. This impacts the bottom line not just in margin, but also in volume. The quicker one truck sells, the quicker another can be brought in, priced and sold. For example, taking a truck in on trade for $30,000 and selling it for $32,000 three months later might result in a black number, but the long turnaround reduces the sale's overall value.
Adjust prices to changing demand
Successful used truck pricing also requires responding to rapid changes in demand. Take the example of a truck model year that posts stable sales for a period, then slackens rapidly once interested customers fulfill their needs, Ely says.
"You have to be constantly doing research and monitoring activity or you won't know customers aren't looking for that truck anymore," he says.
Dealers also need to watch market trends closely. For example, starting around mid-2015, the Class 8 trucks sold post-recession started to filter back into the secondary market as 3- to 5-year-old vehicles.
"It took dealers six to eight months to realize the supply had changed," says Chris Visser, senior analyst with J.D. Power Valuation Services. Because of that, dealers also lagged in adjusting prices accordingly, Visser says.
Customer activity can be monitored any number of ways, including phone calls, on-site customer visits and internet website activity. Ely says the last is especially important as more customers move to online shopping. He says dealers should make their entire inventory available online, and track page views and customer inquiries about each vehicle.
"You ought to know if you are having a valuation issue within 30 days," adds Whitnell.
Updating a price requires asking similar questions addressed in the original pricing: How much is the truck worth to potential customers? How have sales prices changed for comparable competing trucks? How much are our margins impacted by inactivity?
Dedicating an employee to oversee updates is a good way to keep inventory turning, Ely advises. "And it's not as simple as putting your best sales person in charge," he says. "You need someone who is meticulous and will keep track of everything."
Whitnell advises holding at least weekly meetings with management to address issues of inventory and turn rates. He says this facilitates quick reaction to changes and ideally minimizes sales lulls.
"In the used truck game, make and miles is 50 percent of the evaluation," Whitnell says. "But it's the other 50 percent where you get hurt."
This report is from Big Iron Dealer's sister site, Successful Dealer, and is part of a series on the best practices for moving used trucks. Read the previous report, "Used truck surplus driving down prices," here.