The uncertainty of the presidential election is behind us. The freight market is strengthening. Tax cuts and regulatory rollbacks are on the horizon. With these positive developments, experts say, buyers are more confident about buying used trucks.
The bad news? Supply, especially of aerodynamic, fleet-spec'd trucks, is still outpacing demand, putting downward pressure on pricing.
Dealers are feeling the pain. Nearly half of respondents to a recent Successful Dealer survey said the used truck market is their second biggest concern, behind only the technician shortage (56.4 percent). Nearly 72 percent said falling vehicle values is their top concern for selling used trucks.
"There are some dealers that have frankly over-invested in trucks and there is going to be some pain there," says Craig Kendall, president of The Used Truck Association (UTA) and specialty markets manager for the Pete Store. "A truck is like anything else you sell — it's worth what someone will pay for it."
In December, retail prices for 3- to 5-year-old sleeper tractors (MY 2011-2013), which make up most of the used truck inventory, averaged $53,916, or about $1,074 (2 percent) lower than November, according to J.D. Power Valuation Services (see chart: Average Retail Selling Price). Average mileage on those trucks was 435,732, or about 4,626 lower than November. Compared to December 2015, prices were $9,364 (14.8 percent) lower on trucks with 9,734 (2.2 percent) fewer miles on the odometer, on average.
December capped off a year of falling used truck prices. The problem started in mid-2015, when trucks bought post-recession started filtering back into the secondary market, says Chris Visser, senior analyst with J.D. Power Valuation Services. The glut of trucks hit the auctions first, he says.
"It took dealers six to eight months to realize the supply had changed. They lowered prices to compensate for the changed environment."
Consequently, sleeper tractors lost about 30 percent of their value at auction in 2016 and 23 percent through retail, according to J.D. Power. Trucks sold at auction in 2016 brought about 30 percent less money than the year before, while trucks sold retail brought an estimated 13 percent less.
"Depreciation generally accelerated in the second half of 2016," Visser says. "From January to December, trucks of model year 2013 lost about 22 percent of their value, trucks of model year 2012 lost about 37 percent and trucks of model year 2011 lost about 32 percent."
Last year's annual depreciation translates to an overall monthly loss of about 2.5 percent. Visser says that's an improvement over J.D. Power's early estimate of 3 to 5 percent. "This figure is also better than the nearly 5 percent average monthly loss in the second half of 2015," he adds, "but of course selling prices are roughly 30 percent lower today than they were then."
Heading into 2017, the market is showing some signs of improvement. The average price of a 3- to 5-year-old sleeper in January was $65,910, $11,994 better than December but still $7,412 (10.1 percent) lower than January 2016 on trucks with 402,138 or 9,051 (2.2 percent) fewer miles.
Three- to 5-year-old sleepers sold at auction in January brought about 5.5 percent higher prices than January 2016. "Since retail pricing trends generally lag auction pricing trends by a few months, we expect trucks to lose less of their value each month going forward.," Visser says.
Despite such signs of improvement, UTA's Kendall cautions dealers against waiting on prices to rebound before moving aging inventory. "If you've got $20,000 in a $15,000 truck, you're going to be disappointed if you wait for the market to come back to you for that $5,000," he says. "Eventually we're going to have to lower the price and sell it off."
Dealers should expect continued robust supply and downward pressure on pricing throughout this year, Visser says. Deliveries of new trucks over the past five years equate to a potential 8.1 percent increase in the number of 3- to 5-year-old sleepers returning to the market in 2017, compared to 2016, according to J.D. Power.
"It is likely that OEMs are already stockpiling some quantity of these trucks, keeping them out of the marketplace until conditions potentially change," he says.
That won't be for some time, predicts Arrow Truck Sales President Steve Clough. "The amount of trucks I anticipate coming back as used trucks for the first time will continue to grow," he said in September at the FTR Annual Conference. "It will probably peak in 2019 or 2020."
Despite such challenges, there are bright spots. The market for new and used dump trucks is regional but relatively healthy, Visser says. He also points to daycabs coming onto the market in response to fleets' shifting their operations from long haul to more regional hub-and-spoke. "Depreciation on daycabs is still better than sleeper cabs," he says.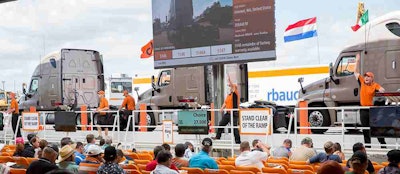 At the February Ritchie Bros. auction in Orlando, Class 8 trucks, particularly pre-emission models, sold well. "We had one 2007 Kenworth (with 600,000 miles) and it brought $97,500," says Jake Lawson, Ritchie Bros. senior vice president. Compared to last year, "we sold comparable trucks for better pricing today than we did on the back end of 2016," he says.
The January report from ACT Research also gave dealers reason for optimism. It showed used Class 8 truck same-dealer sales volumes starting 2017 on a high note, up considerably over a weak January 2016. Sales also rose from December, marking a second consecutive month-over-month increase.
"The retail and wholesale markets both posted gains, improving 9 percent and 11 percent month-over-month, respectively," said Steve Tam, ACT's vice president. ACT's just released February report showed another improvement over January.
UTA's Kendall, a self-described "glass half-full kind of person," is banking on the fact that dealers didn't sell as many new trucks in 2016, "so we're not just packing the shelves with trucks like we did in '14 and '15," he says. "My take is '17, barring something bad, the longer we go, the better the year will be for dealers."
– Jason Cannon, Tom Quimby and James Jaillet contributed to this article. This report is from Big Iron Dealer's sister site, Successful Dealer, and is part of a series on the best practices for moving used trucks.