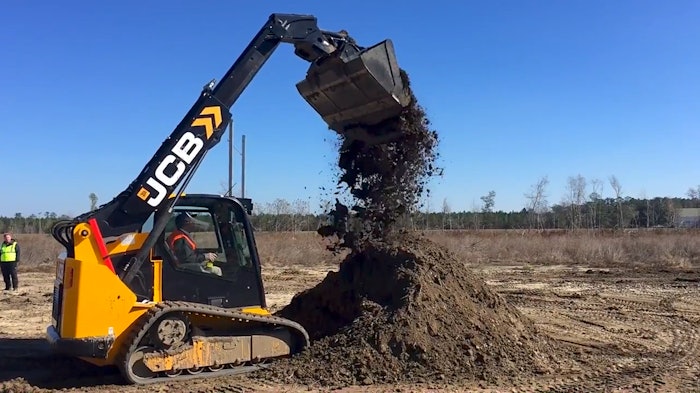 JCB has been in the headlines quite a bit lately with announcements on a switch to Rolls-Royce engines in its largest excavators and an entry into the aerial lift market that the company was able to keep quiet for two years while 27 initial models were in development. Now, the British manufacturer is preparing to launch a new machine at ConExpo next month that it is billing as a wholly different take on the skid steer/compact track loader.
According to a trademark applied for by JCB in July 2016 and awarded in January, this new machine lineup will be called Teleskid. If that name isn't enough of a clue what makes these new machines special, the Teleskid lineup consists of skid-steer and compact track loaders equipped with an extendable boom. It's basically half skid steer, half telehandler and a hybrid machine idea similar to Caterpillar's release last year of the 304.5E2 XTC, a compact excavator with skid steer capabilities.
John Deere has launched updates to two of its compact excavator models aimed at tasks on confined jobsites.
The new 75G and 85G reduced-tail-swing excavators are powered by a 57-horsepower engine that meets Tier 4 Final requirements through the use a diesel particulate filter (DPF) that cleans automatically.
The 75G has an operating weight of 18,221 pounds and features a maximum digging depth of 15 feet, 1 inch and an arm force of 6,902 pounds. The 85G has an operating weight of 19,564 pounds, has a maximum digging depth of 14 ft., 10 in. and an arm force of 6,902 pounds.
Genie has introduced a new accessory it says can provide operators of its boom lifts with additional protection.
The new Genie Lift Guard Contact Alarm system replaces a previous protective alarm system with "a significantly different design" designed to immediately activate and alert others onsite that the lift's operator may need help.
The Lift Guard Contact Alarm is functional whenever the foot switch on the lift has been depressed and mainly consists of an activation cable that is fitted above the boom lift's control panel. When pressure is applied to this cable it disconnects and activates the alarm system. When this happens, an alarm sounds, beacons flash and all of the machine's lift and drive functions are stopped to prevent additional movement in the platform.
Rototilt has introduced a new compact tiltrotator the company says packs all of the strengths previously offered only on larger models.
The new Rototilt R3 is designed for the 6-12 metric ton excavator segment and features a high-flow function, integrated swivel and Rototilt's Intelligent Control System with SecureLock, which provides confirmation to the operator through the in-cab display when an attachment is securely attached to the tiltrotator.
Tiltrotators allow excavators to rotate attachments 360 degrees and tilt them 40 degrees side to side for added tool versatility.
For every pickup owner on their way to work or between jobsites who's ever been tempted to say "Screw work today, I'm popping the top on this sucker and heading for the beach!" … your truck has arrived.
Newport Convertible Engineering (NCE), which has offices in both Huntington Beach, California, and Barcelona, Spain, typically works its magic on fancy European cars and trucks. They'll take your Maybach or Rolls-Royce Ghost and make it an armored vehicle. Or they'll take your Bentley and turn it into a 6×6 monster. Or maybe you'd like your Porsche Cayenne to be a convertible. They'll take care of it.
So, when NCE got hold of a 2017 Ford F-150 SuperCrew Platinum, it should come as no surprise the customization shop's first inclination was to chop off the top. Where the roof used to be, a soft-top now sits along with a roll bar.