Genie has introduced a new accessory it says can provide operators of its boom lifts with additional protection.
The new Genie Lift Guard Contact Alarm system replaces a previous protective alarm system with "a significantly different design" designed to immediately activate and alert others onsite that the lift's operator may need help.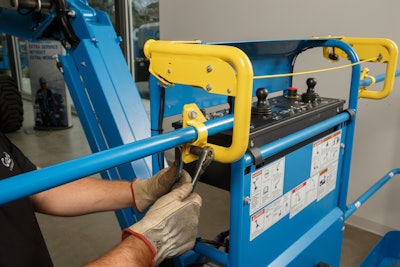 The Lift Guard Contact Alarm is functional whenever the foot switch on the lift has been depressed and mainly consists of an activation cable that is fitted above the boom lift's control panel. When pressure is applied to this cable it disconnects and activates the alarm system. When this happens, an alarm sounds, beacons flash and all of the machine's lift and drive functions are stopped to prevent additional movement in the platform.
Genie says the alarm will sound and machine functions will not resume until the activate cable is clicked back into place. However, the system does not require the engine to be restarted or e-stop power to be cycled to resume complete functionality. The machine can also be operated from the ground if necessary, the company notes.
Terex Aerial Work Platforms product manager Marie Engstrom says the system was designed to be highly visible from the ground and to be as unobtrusive to operators as possible. Engstrom adds that the design also includes a free-movement zone between the cable and the control panel that may allow for operator mobility once the system has been activated. "Unlike other devices on the market, the Genie Lift Guard Contact Alarm system could reduce the risk of operators applying unintentional contact pressure on the boom's control panel," Engstrom says.
The Lift Guard Contact Alarm system is available as a standard accessory on most new articulated Genie Z and telescopic S boom lifts. (It is not yet available on the Genie Z-33/18, the GR-26J or the TZ-34 and TZ-50.) On other lifts it can be installed as a factory option or as an aftermarket kit that can be fitted in less than 30 minutes. The kit can be retrofitted on lifts dating back to 2003.