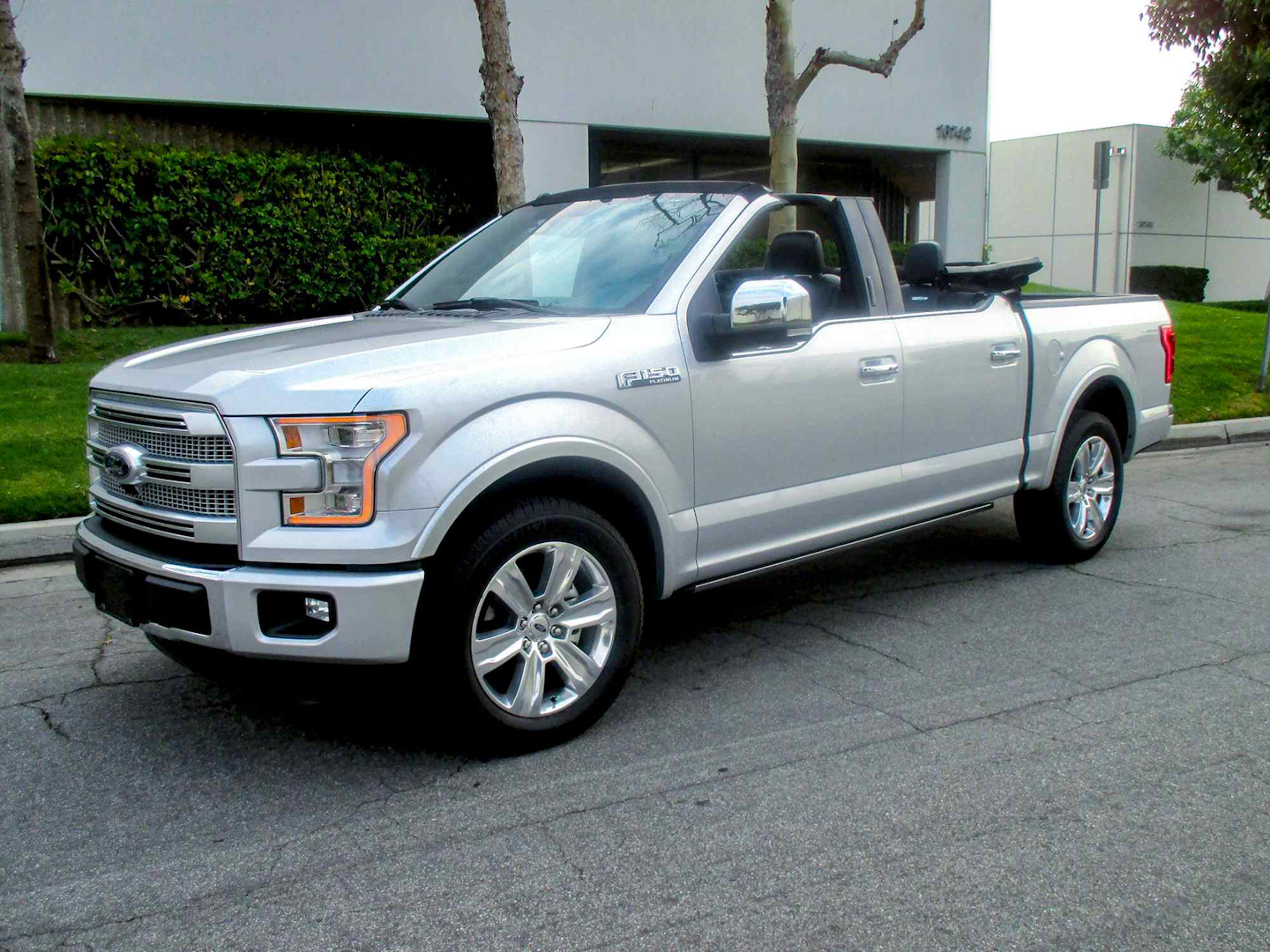 For every pickup owner on their way to work or between jobsites who's ever been tempted to say "Screw work today, I'm popping the top on this sucker and heading for the beach!" … your truck has arrived.
Newport Convertible Engineering (NCE), which has offices in both Huntington Beach, California, and Barcelona, Spain, typically works its magic on fancy European cars and trucks. They'll take your Maybach or Rolls-Royce Ghost and make it an armored vehicle. Or they'll take your Bentley and turn it into a 6×6 monster. Or maybe you'd like your Porsche Cayenne to be a convertible. They'll take care of it.
So, when NCE got hold of a 2017 Ford F-150 SuperCrew Platinum, it should come as no surprise the customization shop's first inclination was to chop off the top. Where the roof used to be, a soft-top now sits along with a roll bar.
In our eyes, the modification significantly detracts from the F-150's looks, plus it appears that when the top is down it folds slightly over the bed, impeding on your cargo space a bit.
However, if you take NCE's word for it, a lot of folks feel very differently. Though the shop has posted very few details to its website on the process of this conversion or the price, a recent press release states that it has seen "worldwide demand" for the convertible F-150. "NCE is officially requesting Ford Motor Company for 5,000-10,000 Ford F-150 to build F-150 convertibles for a worldwide demand. NCE will create 2000-4000 good paying jobs for our good American workers. We will have our next press release on February 10, 2017 after discussion with Mark Fields, CEO of Ford Motor Company."
We'll keep you updated if NCE shares any more details. In the meantime check out the photo gallery and video of the droptop F-150 below.