The compact track loader (CTL) continues its reign, according to a recent study of UCC-1 filings as reported by EDA.
In terms of number of new units sold, CTLs ranked as the No. 1 construction machine in 24 states during the Oct. 1, 2015 to Sept. 30, 2016, time frame. Two CTL models battled it out during this time period: the Kubota SVL75-2 and the Cat 259D. While the Cat machine was the top model in 10 states compared to the Kubota model's dominance in nine, a total of 965 units Kubota SVL75-2 were sold, compared to the Cat 259D's 777 units.
In part because they cost less to finance, compact machines dominate this "most popular" list. In 40 of the 49 states reporting data, either a CTL, skid steer or a compact excavator was the No. 1 financed machine in the state. (Note: Nevada does not report its UCC-1 findings to EDA.) Full-sized equipment models took the lead model position in nine states. (See chart.)
Texas buyers financed 9,577 units during the period, nearly double the amount of units sold in the two states that came in second and third place: Florida (4,905 units) and California (4,570 units). And although the impact of last year's Fixing America's Surface Transportation highway bill is still being debated, highway contractors were mentioned 23 times as one of the top three buyers in a state—the most of any type of contractorand bought more than 680 machines during this time period.
Machines included in this report are backhoes, dozers, articulated haulers, excavators, compact excavators, skid steers, compact track loaders, wheel loaders and toolcarriers, asphalt and concrete pavers, scrapers, graders and single and double drum compactors.
Some cautions need to be made when looking at this data. Financed sales in less populated states (such as Alaska) or smaller geographical areas (such as Connecticut) can swing on just a few sales. For example, while the Cat 420F backhoe was the most popular machine sold in New Mexico during this time period, only 10 units were sold out of a total of 350 sales. Also a few big buys can impact results, such as in Arkansas, where multiple grader purchases by two counties and the Arkansas Department of Transportation made the Cat 140M-3 grader the top machine in the state.
EDA, a division of Randall-Reilly, tracks UCC-1 filing used by lenders when a machine is financed.
Depending on the type of machine, financed machines can represent 40 to 75 percent of the total number of machines of that type sold in the United States. While machines can also be bought by cash or letter of credit, which are not tracked by EDA, buyers of higher priced equipment (for example, a large dozer) tend to use financing.
In addition to the interactive map above, here's our state-by-state breakdown of the top financed machines, buyers and brands, in terms of number of units either sold or leased.
Alabama
Top financed model: Kubota SVL75-2 compact track loader (CTL), 72 units financed out of 1,645 total
Second place: Cat 259D CTL, 48 units
Top three machine types: CTLs (31 percent); compact excavator (21 percent) and excavator (15 percent)
Top buyers: Aggregates producer/paving contractor (24 units); site prep contractor (21 units) and general contractor (15 units)
Top financed brands: Caterpillar, 27 percent; Komatsu, 15 percent, Deere, 14 percent
Alaska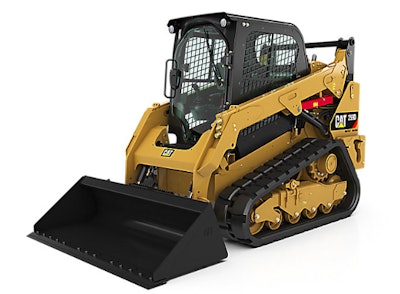 Top financed model: Cat 259D CTL, 8 units financed out of 148 total
Second place: Kubota KX080-4 compact excavator, 5 units
Top three machine types: CTLs (30 percent), a tie with compact excavators; skid steers (18 percent)
Top buyers: Rental and leasing company (9 units); site prep contractor (2 units)
Top financed brands: Cat (32 percent); Bobcat (28 percent); Kubota (14 percent)
Arkansas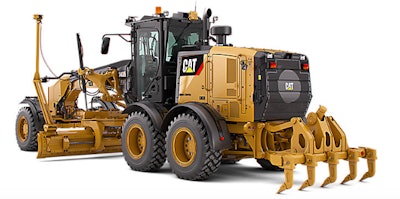 Top financed model: Cat 140M3 grader, 104 units out of 1,265 total
Second place: Kubota KX040-4 CTL, 41 units
Top three machine types: Compact excavator (27 percent), CTL (24 percent); grader (12 percent)
Top buyers: Two county governments (39 units) and the state transportation department (13 units)
Top financed brands: Cat (30 percent); Kubota (15 percent); Deere (14 percent)
Arizona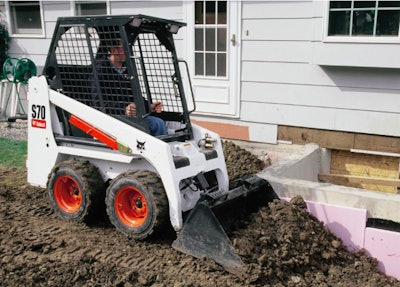 Top financed model: Bobcat S70 skid steer, 51 units of 890 total
Second place: Cat 262D CTL, 30 units
Top three machine types: Skid steers (34 percent); compact excavators (20 percent); wheel loaders, (13 percent)
Top buyers: Rental and leasing company (23 units); landscaping firm (10 units)
Top financed brands: Cat (36 percent); Bobcat (24 percent); Deere (16 percent)
California
Top financed model: Cat 259D CTL, 122 units out of 4,507 total
Second place: Deere 35G compact excavator, 103 units
Top three machine types: Compact excavators (26 percent); skid steers (19 percent); CTLs (17 percent)
Top buyers: Heavy contractor (146 units); pipeline contractor (31 units); Water/sewer contractor (30 units)
Top financed brands: Cat (35 percent); Bobcat (20 percent); Deere (19 percent)
Colorado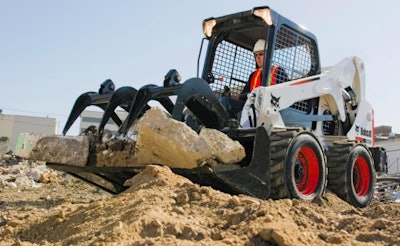 Top financed model: Bobcat S650 skid steer, 76 units out of 2,070 total
Second place: Cat 262D CTL, 64 units
Top three machine types: Skid steers (29 percent); CTLs (16 percent); Compact excavators, (15 percent)
Top buyers: Excavating contractor (32 units); dairy farm (24 units); equipment sales firm (17 units)
Top financed brands: Cat (32 percent); Bobcat (19 percent); Deere (17 percent)
Connecticut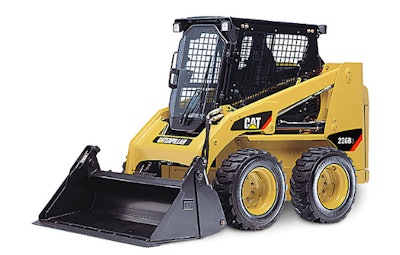 Top financed model: Cat 226B Series 3 skid steer, 19 units out of a total of 829
Second place: Kubota SVL90-2 CTL, 19 units
Top three machine types: Compact excavators (29 percent); skid steers (17 percent); CTLs (15 percent)
Top buyers: Bridge/highway contractor (17 units); Highway contractor (16 units); landscaping contractor (11 units)
Top financed brands: Cat (20 percent); Kubota (17 percent); Bobcat (15 percent)
Delaware
Top financed model: Kubota SLV75-2 CTL, 18 units out of a total 340
Second place: Kubota SVL90-2 CTL, 12 units
Top three machine types: CTLs (30 percent); skid steers (15 percent); compact excavators (13 percent)
Top buyers: Highway contractor (21 units); landscaping contractor (9 units) and concrete/asphalt contractor (8 units)
Top financed brands: Cat (32 percent); Kubota (24 percent); Bobcat (9 percent)
Florida
Top financed model: Kubota SVL75-2 CTL, 138 units out of a total 4,905
Second place: Bobcat T590 CTL, 96 units
Top three machine types: CTLs (23 percent); compact excavators (21 percent); wheel loaders (16 percent)
Top buyers: Excavating contractor (40 units); highway contractor (33 units); heavy contractor (31 units)
Top financed brands: Cat (30 percent); Deere (16 percent); Bobcat (14 percent)
Georgia
Top financed model: Kubota SVL75-2, 157 units out of a total of 3,506
Second place: Kubota SVL95-2S CTL, 76 units
Top three machine types: CTLs (31 percent); compact excavators (19 percent); excavator (16 percent)
Top buyers: Excavating contractor (34 units); sewer/water contractor (28 units); utility contractor (24 units)
Top financed brands: Cat (24 percent); Kubota (14 percent); Deere (13 percent)
Hawaii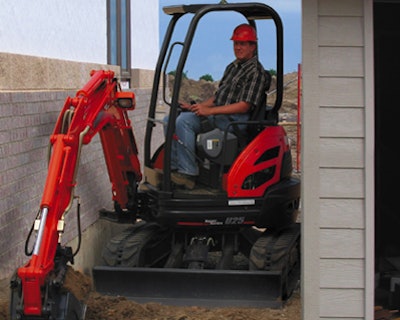 Top financed model: Kubota U25 compact excavator, 17 units out of a total of 301
Second place: Kubota U34-4 compact excavator, 16 units
Top three machine types: Compact excavators (49 percent); CTLs (15 percent); excavators (14 percent)
Top buyers: HVAC contractor (24 units); residential contractor (5 units)
Top financed brands: Kubota (33 percent); Cat (19 percent); Komatsu (18 percent)
Iowa
Top financed model: Cat 289D CTL, 51 units out of a total of 1,541
Second place: Deere 333E CTL, 43 units
Top three machine types: CTLs, (36 percent); skid steers (28 percent); compact excavators (10 percent)
Top buyers: Excavating contractor (24 units); heavy/highway contractor (23 units); site prep contractor (22 units)
Top financed brands: Cat (30 percent); Deere (20 percent); Bobcat (18 percent)
Idaho
Top financed model: Deere 544K wheel loader, 49 out of a total of 737 units
Second place: Case 621F wheel loader, 35 units
Top three machine types: Wheel loaders (33 percent); compact excavators (19 percent); CTLs (15 percent)
Top buyers: Cattle operation (35 units); dairy farm (21 units); sewer/water contractor (14 units)
Top financed brands: Cat (27 percent); Deere (19 percent); Case (16 percent)
Illinois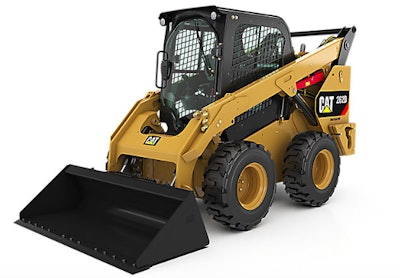 Top financed model: Cat 262D CTL, 336 out of a total of 2,869 units
Second place: Cat 926M wheel loader, 121 units
Top three machine types: Skid steers (35 percent); CTLs (20 percent); wheel loaders (16 percent)
Top buyers: Two rental and leasing companies (241 and 197 units); landscaping contractor (76 units)
Top financed brands: Cat (36 percent); Deere (14 percent); Bobcat (12 percent)
Indiana
Top financed model: Tie – Cat 259D CTL and Cat 289D CTL, 59 units each out of total of 1,897
Top three machine types: CTLs (33 percent); compact excavators (17 percent); skid steers (17 percent)
Top buyers: Sewer/water contractor (78 units); two excavating contractors (55 and 25 units)
Top financed brands: Cat (32 percent); Deere (17 percent); Bobcat (16 percent)
Kansas
Top financed model: Bobcat S650 skid steer, 39 units out of total of 1,059
Second place: Cat 259D CTL, 30 units
Top three machine types: CTL (32 percent); skid steers (28 percent); compact excavator (15 percent)
Top buyers: Concrete/asphalt contractor (13 units); highway contractor (11 units)
Top financed brands: Cat (31 percent); Bobcat (24 percent); Deere (18 percent)
Kentucky
Top financed model: Cat 259D CTL, 56 units out of a total of 1,171
Second place: Cat 745C articulated truck, 25 units
Top three machine types: CTLs (32 percent); compact excavators (18 percent); excavators (12 percent)
Top buyers: Site prep contractor (83 units); two highway contractors (15 and 13 units)
Top financed brands: Cat (30 percent); Bobcat (13 percent); Deere (12 percent)
Louisiana
Top financed model: Kubota SVL75-2, 29 units out of total of 1,484
Second place: Kubota KX040-4 compact excavator, 28 units
Top three machine types: Excavator (23 percent); compact excavator (22 percent); CTL (18 percent)
Top buyers: Industrial building contractor (51 units); two general contractors (15 units each)
Top financed brands: Cat (31 percent); Deere (22 percent); Komatsu (13 percent)
Massachusetts
Top financed model: Cat 259D CTL, 57 units out of total of 2,279
Second place: Cat 950M wheel loader, 47 units
Top three machine types: Compact excavators (20 percent); wheel loaders (18 percent); skid steers (17 percent)
Top buyers: Rental and leasing company (45 units); two highway contractors (44 units each)
Top financed brands: Cat (37 percent); Bobcat (16 percent); Deere (12 percent)
Maryland
Top finance model: Kubota SVL75-2 CTL, 79 units out of a total of 1,558
Second place: Bobcat S650 skid steer, 63 units
Top three machine types: CTLs (27 percent); skid steers (22 percent); compact excavators (17 percent)
Top buyers: Highway contractor (70 units); nonresidential contractor (27 units); farm operation (18 units)
Top financed brands: Cat (22 percent); Bobcat (20 percent); Kubota (15 percent)
Maine
Top financed model: Kubota KX040-4 compact excavator, 12 units out of a total of 540
Second place: Deere 50G compact excavator, 9 units
Top three machine types: Compact excavators (23 percent); excavators (18 percent); wheel loaders (17 percent)
Top buyers: Excavating contractor (10 units); nonresidential contractor and landscaping contractor (6 units each)
Top financed brands: Cat (24 percent); Deere (15 percent); Bobcat (12 percent)
Michigan
Top financed model: Cat 259D CTL, 58 units out of a total of 2,047
Second place: Cat D6K-2 LGP dozer, 56 units
Top three machine types: CTL (28 percent); skid steers (18 percent); wheel loaders (14 percent)
Top buyers: Electrical contractor (23 units); nonresidential contractor (17 units); highway contractor (12 units)
Top financed brands: Cat (33 percent); Bobcat (16 percent); Deere (15 percent)
Minnesota
Top financed model: Cat 259D CTL, 104 units out of a total of 2,818
Second place: Bobcat S590 skid steer, 89 units
Top three machine types: CTLs (38 percent); skid steers (29 percent); wheel loaders (9 percent)
Top buyers: Sewer/water contractor (47 units); site prep contractor (42 units); highway contractor (25 units)
Top financed brands: Cat (33 percent); Bobcat (24 percent); Deere (15 percent)
Missouri
Top financed model: Kubota SVL75-2 CTL, 104 units out of a total of 2,290
Second place: Cat 259D CTL, 77 units
Top three machine types: CTL (47 percent); compact excavator (17 percent); skid steer (14 percent)
Top buyers: Sewer/water contractor (61 units); brick and stone supplier (12 units); highway contractor (11 units)
Top financed brands: Cat (24 percent); Bobcat (23 percent); Deere (16 percent)
Mississippi
Top financed model: Cat D6K2 LGP dozer, 45 units out of a total of 1,187
Second place: Kubota KX404-4 compact excavator, 30 units
Top three machine types: CTL (25 percent); compact excavators (22 percent); excavators (16 percent)
Top buyers: Highway contractor (32 units); lumber materials supplier (18 units); pipeline services (16 percent)
Top financed brands: Cat (33 percent); Bobcat (15 percent); Deere (14 percent)
Montana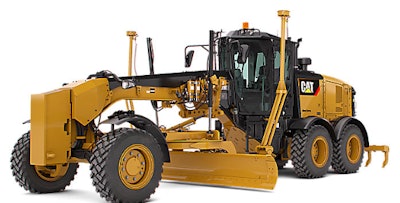 Top financed model: Cat 160M 3 grader, 23 units out of a total of 682
Second place: Cat 259D CTL, 19 units
Top three machine types: CTL (21 percent); skid steer (21 percent); compact excavator (17 percent)
Top buyers: Concrete/asphalt contractor (12 units); county government (11 units); highway contractor (10 units)
Top financed brands: Cat (36 percent); Deere (20 percent); Bobcat (14 percent)
North Carolina
Top financed model: Cat 259D CTL, 136 units out of a total of 3,403
Second place: Bobcat T590 CTL, 127 units
Top three machine types: CTL (29 percent); compact excavator (26 percent); excavator (14 percent)
Top buyers: Electrical contractor (111 units); highway contractor (100 units); structural steel erection company (66 units)
Top financed brands: Cat (31 percent); Bobcat (17 percent); Deere (13 percent)
North Dakota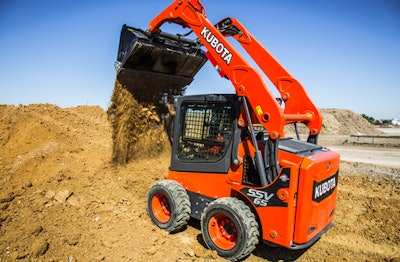 Top financed model: Kubota SSV65 CTL, 26 units out of a total of 563
Second place: Bobcat S650 skid steer, 18 units
Top three machine types: Skid steers (26 percent); CTL (26 percent); wheel loader (18 percent)
Top buyers: Aggregates quarry (110 units); utility company (38 units); hardware retailer (35 units)
Top financed brands: Cat (47 percent); Deere (16 percent); Bobcat (12 percent)
Nebraska
Top financed model: Bobcat S650 skid steer, 43 units out of a total of 993
Second place: Bobcat T590 CTL, 42 units
Top three machine types: CTL (39 percent); skid steer (26 percent); compact excavator (11 percent)
Top buyers: Excavating contractors (9 and 13 units); county agency (9 units)
Top financed brands: Cat (32 percent); Bobcat (30 percent); Deere (14 percent)
New Hampshire
Top financed model: Kubota KX040-4 compact excavator, 25 units out of a total of 693
Second place: Bobcat S650 skid steer, 16 units
Top three machine types: Compact excavators (26 percent); wheel loaders (18 percent); CTLs (15 percent)
Top buyers: Landscaping contractor (13 units); highway contractor (10 units); residential contractor (7 units)
Top financed brands: Cat (29 percent); Bobcat (20 percent); Kubota (14 percent)
New Jersey
Top financed model: Bobcat S650 skid steer, 44 units out of a total of 1,755
Second place: Deere 35G compact excavator, 38 units
Top three machine types: Compact excavators (23 percent); CTLs (17 percent); skid steers (15 percent)
Top buyers: Heavy construction firm (23 units); excavating contractor (20 units); highway contractor (16 units)
Top financed brands: Cat (31 percent); Deere (18 percent); Bobcat (14 percent)
New Mexico
Top financed model: Cat 420F backhoe, 10 units out of a total of 350
Second place: Deere 310SL backhoe, 9 units
Top three machine types: Skid steers (22 percent); CTLs (18 percent); wheel loaders (17 percent)
Top buyers: Utility contractor (11 units); tribal construction authority (9 units); sewer/water contractor (9 units)
Top financed brands: Cat (31 percent); Deere (28 percent); Bobcat (15 percent)
Nevada
(Note: Nevada does not report its UCC-1 findings to EDA.)
New York
Top financed model: Kubota KX040-4 compact excavator, 82 units out of a total of 3,438
Second place: Bobcat T650 CTL, 76 units
Top three machine types: Compact excavators (26 percent); CTLs (21 percent); skid steers (19 percent)
Top buyers: Oil/gas pipeline contractor (69 and 16 units); sewer/water contractor (22 units)
Top financed brands: Cat (27 percent); Bobcat (20 percent); Kubota (13 percent)
Ohio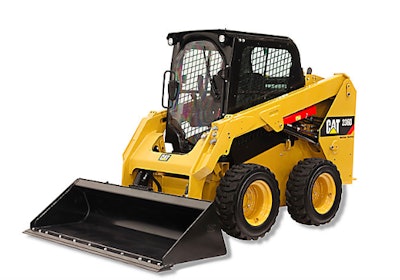 Top financed model: Cat 236D skid steer, 132 units out of a total of 3,311
Second place: Cat 242D skid steer, 114 units
Top three machine types: Skid steers and CTLs (24 percent each); compact excavators (19 percent)
Top buyers: Highway contractor (80 units) power/communications contractor (49 units); fertilizer manufacturer (37 units)
Top financed brands: Cat (30 percent); Bobcat (15 percent); Deere (15 percent)
Oklahoma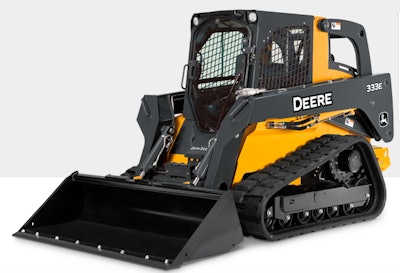 Top financed model: Deere 333E CTL, 64 units out of a total of 1,461
Second place: Kubota SLV75-2 CTL, 57 units
Top three machine types: CTLs (38 percent); compact excavator (19 percent); skid steers (13 percent)
Top buyers: Aggregates quarry (33 units); rental/leasing company (19 units); oil/gas services company (11 units)
Top financed brands: Cat (25 percent); Deere (23 percent); Kubota (16 percent)
Oregon
Top financed model: Kubota KX040-4 compact excavator, 47 units out of a total of 1,052
Second place: Cat 305E-2 compact excavator, 32 units
Top three machine types: Compact excavators (39 percent) CTLs (18 percent); excavators (16 percent)
Top buyers: Heavy construction contractor (34 units); rental/leasing company (19 units); excavating contractor (17 units)
Top financed brands: Cat (23 percent); Deere and Kubota (20 percent each)
Pennsylvania
Top financed model: Kubota SLV75-2 CTL, 78 units out of a total of 3,693
Second place: Cat 529D CTL, 66 units
Top three machine types: CTLs and compact excavators (22 percent each); skid steers (18 percent)
Top buyers: Utility contractor (41 units); general contractor (37 units); metal fabricating shop (28 units)
Top financed brands: Cat (27 percent); Bobcat (13 percent); Deere (11 percent)
Rhode Island
Top financed model: Bobcat E50 compact excavator, 8 out of a total of 261 units
Second place: Bobcat S70 skid steer, 6 units
Top three machine types: Skid steers (23 percent); compact excavators (21 percent); wheel loaders (20 percent)
Top buyers: Rental/leasing companies (8 and 6 units); landscaping company (6 units)
Top financed brands: Cat (31 percent); Bobcat (24 percent); Deere (17 percent)
South Carolina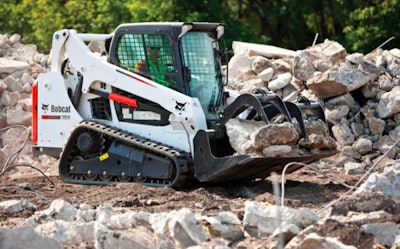 Top financed model: Bobcat T590 CTL, 55 out of a total of 1,961 units
Second place: Kubota SVL75-2 CTL, 50 units
Top three machine types: CTLs (29 percent); compact excavators (21 percent); excavators (17 percent)
Top buyers: Site development contractors (47 and 38 units); highway contractor (25 units)
Top financed brands: Cat (27 percent); Bobcat (16 percent); Kubota (12 percent)
South Dakota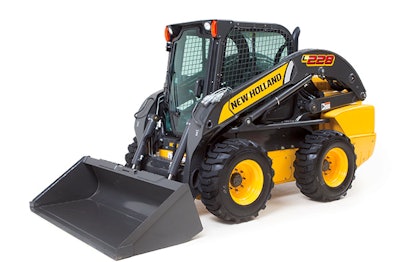 Top financed model: New Holland L228 skid steer, 21 units out of 392
Second place: Deere 333E CTL, 15 units
Top three machine types: Skid steers (37 percent); CTLs (22 percent); wheel loaders (18 percent)
Top buyers: Landscaping contractor (7 units); site development contractor (4 units)
Top financed brands: Deere (22 percent); Cat (21 percent); Bobcat (20 percent)
Tennessee
Top financed model: Cat 259D CTL, 107 units out of a total of 2,128
Second place: Kubota SVL75-2 CTL, 100 units
Top three machine types: CTL (39 percent); compact excavators (22 percent); excavators (11 percent)
Top buyers: Paper company (34 units); heavy construction contractor (31 units); highway contractor (30 units)
Top financed brands: Cat (38 percent); Kubota (16 percent); Bobcat (14 percent)
Texas
Top financed model: Kubota SVL75-2, 290 units out of a total of 9,577
Second place: Cat 259D CTL, 242 units
Top three machine types: CTLs (24 percent); compact excavator (17 percent); skid steers (14 percent)
Top buyers: Oil/gas pipeline contractors (220 and 138 units); utility service provider (108 units)
Top financed brands: Cat (29 percent); Deere (21 percent); Bobcat (13 percent)
Utah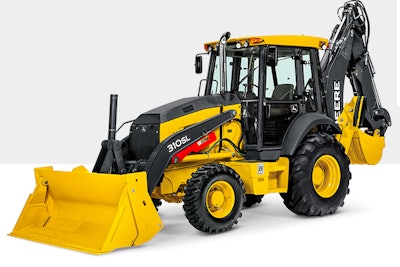 Top financed model: Deere 310SL backhoe, 154 units out of a total of 1,095
Second place: Case 580 Super N, 85 units
Top three machine types: Backhoes, (23 percent); compact excavators (18 percent); CTLs (15 percent)
Top buyers: Aggregates quarry (48 units); construction materials producer (46 units); transportation department (30 units)
Top financed brands: Cat (34 percent); Deere (21 percent); Komatsu (11 percent)
Virginia
Top financed model: Cat 259D CTL, 70 out of a total of 1,992 units
Second place: Bobcat T650 CTL, 55 units
Top three machine types: CTL (29 percent); compact excavator (19 percent); excavator (14 percent)
Top buyers: Heavy construction contractors (17 and 15 units); Highway contractor (16 units)
Top financed brands: Cat (31 percent); Deere (18 percent); Bobcat (17 percent)
Vermont
Top financed model: Kubota KX057-4 compact excavator, 7 out of a total of 288
Second place: Volvo EC60E compact excavator, 6 units
Top three machine types: Compact excavator (31 percent); excavator (21 percent); CTL (19 percent)
Top buyers: Rental/leasing company (6 units); general contractor (5 units); excavating contractor (4 units)
Top financed brands: Cat (32 percent); Deere (14 percent); Bobcat (12 percent)
Washington
Top financed model: Kubota KX040-4 compact excavator, 111 units out of a total of 1,610
Second place: Deere 50G compact excavator, 52 units
Top three machine types: Compact excavators (44 percent); excavators (17 percent); CTLs (13 percent)
Top buyers: Ready-mix producer (49 units); sewer/water contractor (12 units); highway contractor (11 units)
Top financed brands: Cat (24 percent); Deere (22 percent); Kubota (20 percent)
West Virginia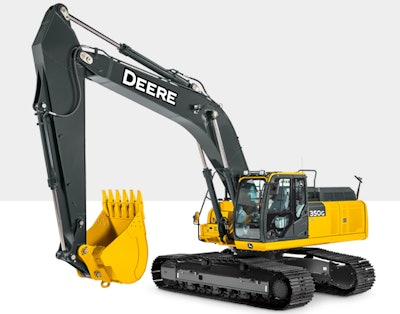 Top financed model: Deere 350G LC excavator, 21 units out of a total of 551
Second place: Cat 289D CTL, 21 units
Top three machine types: Compact excavators (26 percent); CTLs (21 percent); excavators (17 percent)
Top buyers: Rental/leasing company (39 units); oil/gas pipeline contractor (33 units); highway contractor (21 units)
Top financed brands: Cat (32 percent); Bobcat (17 percent); Deere (15 percent)
Wisconsin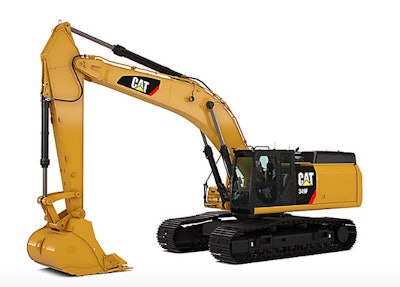 Top financed model: Cat 349F L excavator, 195 units out of a total of 2,983
Second place: Cat 336F L excavator, 188 units
Top three machine types: Skid steers (32 percent); excavators (23 percent); CTLs (21 percent)
Top buyers: Oil/gas pipeline and utility contractors (442 and 27 units); heavy construction contractor (26 units)
Top financed brands: Cat (35 percent); Bobcat (15 percent); Deere (13 percent)
Wyoming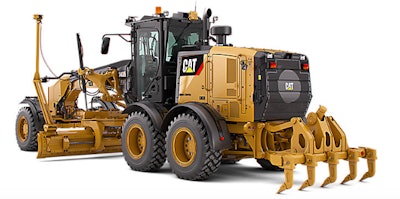 Top financed model: Cat 12M3 grader, 8 units out of a total of 289
Second place: Kubota SVL75-2 CTL, 7 units
Top three machine types: CTLs (24 percent); compact excavators (18 percent); skid steers (16 percent)
Top buyers: Highway contractor (6 units); county government (5 units); heavy construction contractor (4 units)
Top financed brands: Cat (32 percent); Bobcat (17 percent); Deere (15 units)