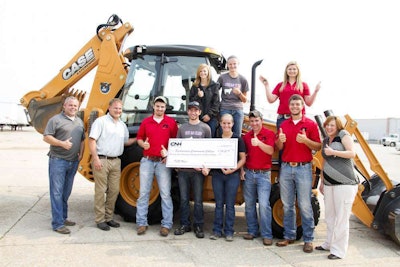 CNH Industrial and Case donate backhoe to Southeastern Community College
CNH Industrial and CASE Construction Equipment's Burlington, Iowa, plant donated a CASE 580N backhoe loader to Southeastern Community College.
The college's Construction Technology and Agriculture programs will use the backhoe for student training and instruction as well as special class projects. It will also be used to show students how to operate and properly maintain a piece of heavy equipment. Agriculture students will use the machine for soil sampling and demonstrations in drainage tile.
This is the first time CNH Industrial and CASE have made an equipment donation to the college. The company has donated funds in recent years, including $10,000 for new welding equipment.
David Spille joins Southeastern Equipment
David Spills has joined Southeastern Equipment as parts manager at the Burlington, Kentucky, branch.
Prior to joining Southeaster, Spille was a rental coordinator for 11 years at two companies that specialized in renting construction equipment.
Ditch Witch UnderCon expands Nebraska territory
Ditch Witch UnderCon increased its presence in Nebraska with the purchase of Ditch Witch in Omaha.
The dealership already has locations in Grand Island and Gering, Nebraska. This purchase expands service of underground construction to Eastern Nebraska and Western Iowa.
Ditch Witch UnderCon is owned and operated by CEO Lenny Sadler and COO Jake Saddler. With the addition of the Omaha location, the Sadlers now own five locations.
Shaun Meeks joins Southeastern Equipment
Shaun Meeks joined Southeastern Equipment as outside sales representative at the Gallipolis, Ohio branch.
Before joining Southeastern, Meeks held several positions at a construction and agriculture equipment company for five years, including compact equipment manager, sales representative and service technician. Prior to that, he was the service manager for a construction equipment dealer at their corporate location.
Valley of the Sun hosts Construction of the Year awards banquet
The Construction Financial Management Association is a national organization dedicated to serving and educating the financial leaders who work in and support the construction industry. The Association's largest chapter, Valley of the Sun, includes over 300 members from around the Valley and across Arizona.
The chapter hosted its 15th Annual Construction Executive of the Year awards banquet heled at the Talking Stick Resort. This event celebrates the best of Arizona construction companies and their leaders.
This year's winner was Robert "Bo" Calbert, President of McCarthy Building Companies Southwest Region.
The Valley of the Sun chapters also hosted a back to school drive benefiting UMOM New Day Centers, as well as worked at UMOM's back to school night, entertaining the school age residents. The chapter plans to participate as a team for the third year at UMOM's Walk for Homeless Families in September.
In October, the chapter's 25th annual golf tournament will take place. This tournament raises funds for scholarship programs for students in the construction and accounting fields.