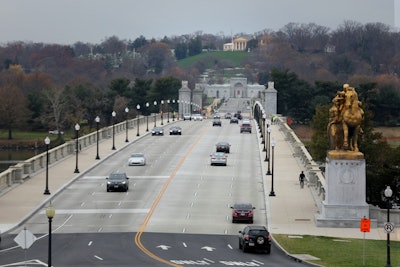 For three years, the historic Arlington Memorial Bridge has been dismantled piece-by-piece for its deteriorated parts to be refurbished or replaced.
The first major repair for the bridge, which opened in 1932 over the Potomac River, cost $227 million and involved removing 4,500 granite pieces of the Neoclassical span to an offsite location for cleaning and repair and then installed exactly as they were.
The entire bridge deck was replaced, as well as repairs to concrete arches and stone facades. The superstructure to the bascule, or drawbridge, was replaced with a fixed span. The bridge's light posts were also removed, refurbished offsite and returned, and its 60,000 square feet of sidewalks were replaced.
The 88-year-old bridge also became a showcase for some modern techniques, according to the Federal Highway Administration. The contractor for the project, Kiewit, used accelerated bridge construction, in which precast concrete panels replaced 200,000 square feet of the bridge's deck, which had been cut into pieces and removed.
The rehab project also deployed ultra-high-performance concrete to connect the precast deck panels. The process eliminates the need for deck joints, which can lead to leaks and maintenance problems.
"This bridge has a long history, and these innovations ensure it will have a bright future," said Federal Highway Administrator Nicole R. Nason.
The project also involved some creative engineering by Kiewit in keeping traffic flowing while working. The project was split into phases, so work could occur on one of the spans and traffic could flow on the other. This presented a challenge, however, because the bascule had to be cut in half and would need in-water shoring. Kiewit then designed a barge to support the bascule's structural steel.
"We were able to prefabricate a lot of the work on the shore and then float the barge into position and jack it up into place," Kiewit Senior Structural Engineer Dave Lamoureux said last year. "That eliminated a lot of the work that would have been done out on the water, and a lot of the low headroom work under the bridge."
The bridge is now open to traffic in all lanes, which is estimated at 68,000 drivers a day. It was designed as a memorial to symbolize the reunification of the North and the South after the Civil War, linking the Arlington House memorial for Robert E. Lee in Arlington, Virginia, and the Lincoln Memorial in Washington. It is also the ceremonial entrance to Arlington National Cemetery, established in 1864 after the war.
"Widely regarded as Washington's most beautiful bridge, the 2,163-foot-long Arlington Memorial Bridge is an enduring link between the North and South in its alignment between the Lincoln Memorial and Arlington House," according to news release announcing the bridge's reopening by the U.S. Department of Transportation and the U.S. Department of the Interior.
"The rehabilitation of the Arlington Memorial Bridge honors the sacrifices of our nation's veterans," U.S. Secretary of the Interior David L. Bernhardt said. "The completion of this project marks one of the largest infrastructure projects in National Park Service history, which was done on time and on budget. I hope that all Americans are brought together to remember and honor our veterans every time they cross this bridge into the capital of our nation."
For more details on the rehab project, see the animation video below from the National Park Service: