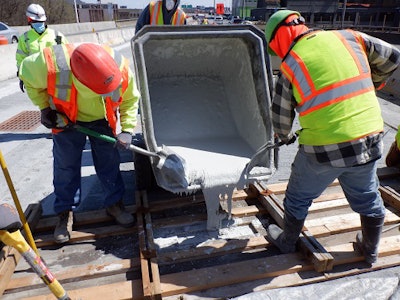 A $204 million rehabilitation project recently completed on a major expressway in the Bronx created jointless bridge decks by using link slabs of ultra-high-performance concrete.
The process is designed to prevent water from leaking from the deck to the substructure, which deteriorates the bridge over time.
Six deteriorated ramps on the Bruckner Expressway underwent deck replacements and repairs of concrete piers and steel girders. The project also involved using link slabs, a growing practice by the New York State Department of Transportation to preserve bridge life. The slabs replace bridge deck joints, which are a major source of deterioration. Water leaks through the joints over time, corroding bridge girder bearings and supporting structures. Debris also accumulates in the joints, which can hinder deck expansion and cause further damage. Joints are also costly to install and maintain.

The slabs of ultra-high-performance concrete are used to connect the ends of prefabricated deck sections over the pier. Ultra-high-performance concrete is steel fiber-reinforced and includes superplasticizers to reduce water content in the mix. It is designed to be stronger and more durable than traditional concrete. The link slabs are connected to the deck by the concrete deck's reinforcing bars.
Six connecting ramps were renovated on a half-mile section of the expressway, along with the expressway itself, between East 141st Street and the interchange with the Major Deegan Expressway and Robert F. Kennedy Bridge. The process enabled the elimination of 70 percent of the bridges' deck piers, according to Gov. Andrew Cuomo's office.
In 2017, the NYSDOT reported it had retrofitted 15 bridges with link slabs, eliminating 30 deck joints, and 15 more link slabs were in construction or design. It uses the slabs on new decks and existing decks in fair condition. The design for the ultra-high-performance concrete link slabs was developed by the NYSDOT's Office of Structures.