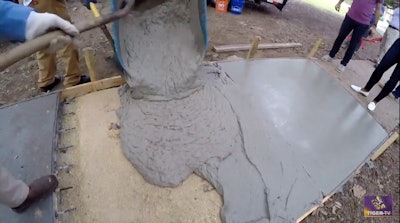 Scientists at Louisiana State University (LSU) who have been developing and testing Engineered Cementitious Composite (ECC), also known as bendable concrete, say they are close to bringing it to the market, engineering.com reports. The idea originated at the University of Michigan in the 1990s, but the researchers say their version is cheaper and easier to make, using readily available ingredients.
"Compared to typical concrete, our cost-effective ECC material has about 300 times more deformation capacity, more than two times the flexural strength, and a higher compressive strength," Gabriel Arce, a senior research associate in LSU's Bert S. Turner Department of Construction Management and principal investigator on the project, told the news agency.
"The cost of our material is approximately 2.5 times that of regular concrete; typical ECC cost can be more than four times that of regular concrete," he added. "However, when you factor in the possibility of building pavements at half the thickness and the enhanced construction productivity due to the ability to construct pavements without joints, the cost of pavements with our ECC material should be comparable to that of traditional concrete."
The ECC project is being funded by Trans-SET (Transportation Consortium of South-Central States). The researchers tested four different types of sand, two types of recycled crumb rubber materials, five types of fiber, and three different types of fly ash. Once the materials were chosen, several ECC mixes were tested for compressive strength, tensile strength, deformation capacity, flexural performance, workability, and cracking performance.
The researchers eventually settled on three main ingredients — a type of PVA fiber readily available in the U.S., fine river sand from the Mississippi River, and locally available fly ash.
"We were able to tailor the cementitious mix and the interface between the fiber and the cementitious matrix in such a way that allowed for a ductile behavior of the concrete," Arce said, according to the news agency. "In more simple terms, the formula utilizes the right materials in the right proportions."
The researchers plan to further test the material by building a 210-foot-long section of ECC pavement at the Louisiana Transportation Research Center Pavement Research Facility and use the LTRC PRF's 65-foot-long Accelerated Transportation Loading System (ATLas 30) to simulate truck loading for pavement testing, which will allow for accelerated road compression.