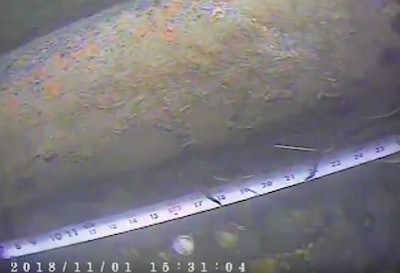 Bridge inspectors found two unexploded artillery shells underwater at the base of the Highway 45 bridge over the Snake River near Nampa, Idaho, the Idaho Statesman reports.
Bridge inspection divers found the first explosive on October 31, and the second one on November 1. It was unknown how they got there, but there were no additional explosives found during a sweep of the entire area and none are expected to be found in the future.
Idaho Transportation Department (ITD) spokesman Jake Melder told the news agency that the unexploded military ordnance was found on the river floor near two piers that support the bridge. The U.S. Navy supplied an Explosive Ordnance Device Dive Team. The bridge was closed for approximately 20 minutes while the divers removed the explosives on November 9.
"The ordnances themselves were both located about 20 feet underwater," Melder said, according to the news agency. "What the assessment showed where they were placed didn't show an immediate safety risk to the public. We didn't need to have cause for an alarm."
The IDT video below shows what appears to be a corroded artillery shell about 28 inches long that has some plant life growing either on it or around it.