This is not a river…this is Interstate 40. The North Carolina Division of Aviation captured this drone footage today as part of damage assessment near mile marker 387 in Pender County. This illustrates our message that travel towards this area is impassable and unsafe. #FlorenceNC

Posted by North Carolina Department of Transportation on Monday, September 17, 2018
The N.C. Division of Aviation captured the above drone video while conducting damage assessments September 17 following Hurricane Florence. The water has since receded from I-40 and the highway has been reopened.
The southeastern and south central parts of the state are experiencing the worst flooding, with roads still underwater and some rivers continuing to rise. On September 20, NCDOT reported 750 road closures throughout the state due to flooding or downed trees and power lines.
Here are some drone shots of Interstate 95 and other flooded highways on September 18 from the N.C. Department of Transportation's Facebook page: (I-95 in both North and South Carolina has since reopened after floodwaters receded.)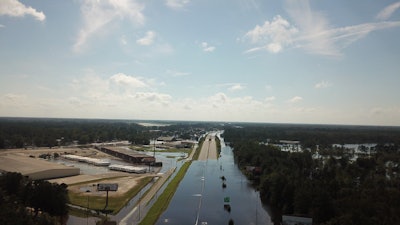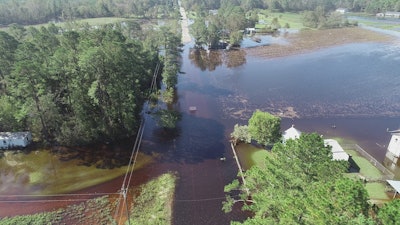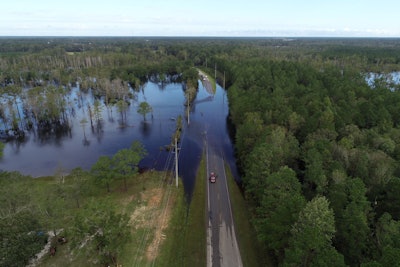 Several rivers across North Carolina are at various flood stages, but some are receding, the NCDOT reports:
"Across the southern Piedmont & Coastal regions, 13 rivers are at major flood stage, with one additional river expected to reach major flood stage later this week."
Below is a map of the state's rivers as of 7 a.m. September 19 from the Flood Inundation Mapping and Alert Network, with the purple dots indicating major flooding, red indicating moderate flooding and orange indicating minor flooding:
(Note: This story has been updated with information on N.C. and S.C. road closures.)