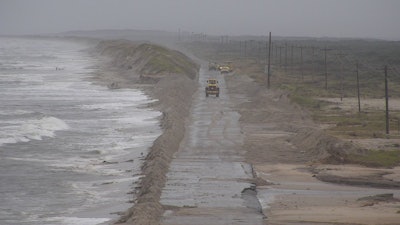 State transportation crews in North Carolina and South Carolina and their contractors have been busy responding to flooded roads, roads blocked with trees and power lines, and more flooding is expected as rivers continue to rise to major flood stages from Florence's rains.
After making landfall Friday as a Category 1 Hurricane, the storm has since been downgraded to a tropical depression. But its rains are still causing problems in the Carolinas as of Monday and have also led to flash flood watches and warnings into parts of Virginia, Maryland, West Virginia, Pennsylvania, New York and New England.
Seventeen deaths have been blamed on the storm.
Large sections of Interstate 95 in North Carolina and South Carolina are closed due to flooding. The city of Wilmington, North Carolina, near where the storm made landfall, is cut off by floodwaters, as its main artery Interstate 40 is flooded, as well as numerous secondary roads.
The area received more than 23 inches of rain, according to the National Hurricane Center. The town of Swansboro, N.C., recorded the most rainfall, at nearly 34 inches, the NHC reports.
The North Carolina Department of Transportation reported that as of September 16 at 4:30 p.m., 700 roads were closed across the state. Transportation officials urged people to not try to drive across the state. "Travel should be completely avoided in areas south of U.S. 64 and east of I-73/I-74," according to NCDOT.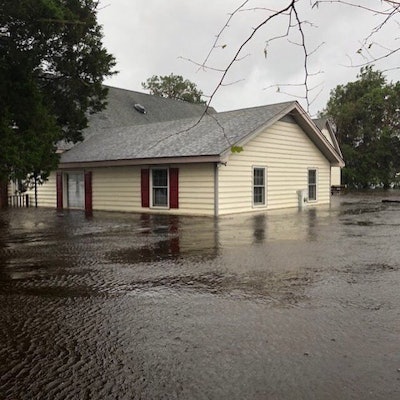 "Unless you are evacuating, stay in place," said N.C. Transportation Secretary Jim Trogdon. "Road conditions are changing rapidly with the rising waters and you could endanger yourself and those responding to the storm."
The South Carolina Department of Transportation was also dealing with widespread road closures. I-95 northbound is closed from exit 181 (S.C. 38) to the North Carolina line.
Over the weekend, SCDOT crews were building a flood barrier of 1 mile long on the U.S. 378 bridge over the Lynches River in Florence County, where floodwaters were expected to cover the road September 17 or 18. For a video of the work, see below:
U.S. 378 Lynches River Flood Barricade Construction

Contractors and SCDOT crews work to construct a flood barricade on U.S. 378, crossing the Lynches River in Florence County on Sept. 16. Brittany Peacock Reporting. (Video by Cody Crouch/SCDOT)

Posted by SCDOT on Sunday, September 16, 2018
In Conway, South Carolina, crews were hauling in dirt on the U.S. 501 Bypass ahead of expected flooding September 17. The town council, however, has sought legal counsel on trying to stop the plan, as it fears additional flooding in town because of the barrier.
Meanwhile, rescue crews continued to carry our water and air rescues of stranded residents. Evacuations remain in effect for areas expecting additional flooding, as the water continues to rise. Eastern North Carolina rivers reaching major flood stages include the Neuse, Little, Rocky, Lumber and Cape Fear.
As of Monday morning, the center of the storm was over northwest Virginia and headed north-northeast at about 13 mph, the NHC reports. Maximum sustained winds were 30 mph, with stronger gusts. Tornadoes were possible. The storm is expected to accelerate September 18 and move more easterly, eventually heading off into the Atlantic.