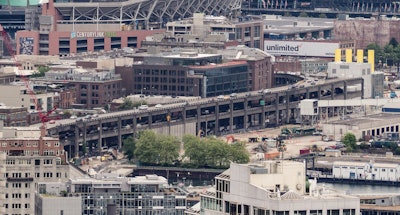 The Washington State Department of Transportation (WSDOT) has created an online open house to offer the public a view of plans to demolish the old Alaskan Way Viaduct after the new SR 99 tunnel opens in early 2019.
Bertha, the world's largest tunnel boring machine, finished the outer wall of the SR 99 tunnel in April and is currently being disassembled.
The online open house site includes an overview of the demolition, a schedule, contractor selection, traffic and access, demolition effects, how agencies are coordinating the impact on the waterfront region, an overview of the entire viaduct project and a section for providing feedback. Comments can be submitted through Aug. 14.
An in person open house is set for Aug. 10, 5-8 p.m., at the Waterfront Space, 1400 Western Avenue in Seattle.
"Demolishing this remaining portion of the viaduct will be more challenging than the southern mile because the roadway is so close to downtown streets," says Brian Nielsen, WSDOT deputy program administrator, Alaskan Way Viaduct Replacement Program. "We'll work closely with the contractor to protect people and buildings, and minimize traffic disruptions as much as possible. We want to make sure drivers, pedestrians, bike riders and ferry riders can still get where they need to go during the estimated nine months of demolition work."
WSDOT reports when the tunnel is finished it will permanently close the Alaskan Way Viaduct and build final connections on the south and north ends. When the tunnel opens, contractors will then decommission and fill in the Battery Street Tunnel and reconnect surface streets at the north end. After the Alaskan Way Viaduct is removed the Seattle Department of Transportation will start building a larger Alaskan Way past of a larger waterfront renovation project.