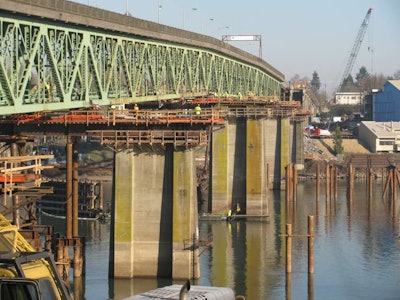 The time-lapse video below shows Portland's old Sellwood Bridge, which was built in 1925, being moved to temporary supports on January 19, 2013, so that a new bridge could be constructed in its place. You can view another time-lapse of the new bridge construction here.
Omega Morgan was the company hired to move the 3,400-ton truss bridge, and the company's vice president of engineering created the plan. The bridge was moved in one piece, providing a cost savings for Multnomah County and saving a year in construction time.
Omega Morgan's 35-member crew used 10 sliding jacks, 40 lifting jacks, a central control system, 10 GPS sensors, 30 stress-strain gauges, and 10 smart levels to move the 1,100 foot long, 3,400-ton bridge in one piece. It took a total of 14 hours for the move.
Learn more about the bridge move at SellwoodBridge.org.