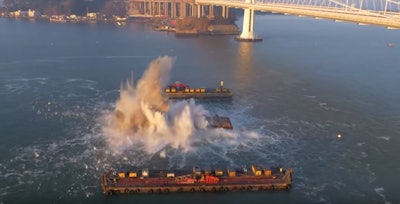 The California Department of Transportation (Caltrans) Nov. 14 imploded the largest pier of the San Francisco-Oakland Bay Bridge's old east span (Pier E3) after months of planning around minimizing environmental impact from the demolition.
Engineers set off the implosion early in the morning during "slack tide" using 600 controlled charges. The effort weakened the 50-foot pier to allow gravity to drop it into its hollow casing Caltrans says was below the mudline.
"In the coming weeks, we'll be exhaustively collecting extensive data and determining the effect the implosion had on the environment and fish nearby," said Brian Maroney, Chief Bridge Engineer of Caltrans' Toll Bridge Program. "We don't know exactly what it looks like down there, not yet. The information will be critical for determining the best method for demolishing the remaining 21 piers."
Workers determined November was the best time to perform the work, as this time of year would cause the least trouble with the environment and the fact that fewer marine animals are typically in the area then. Caltrans said environmental and biological experts were on hand to monitor conditions around the blast zone.
More information is available at https://dot.ca.gov/e3implosion.