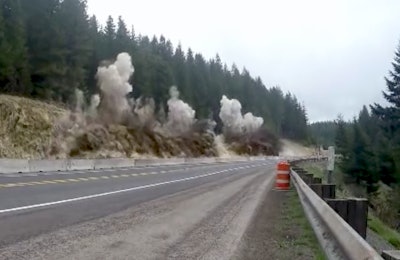 A blasting near Government Camp, Ore., April 21 began the second year of work on the Oregon Department of Transportation's (ODOT) Mount Hood Safety Project, an effort designed to limit falling rock issues along an 8-mile area of U.S. 26.
Work first began last year and will carry on from April to October this year, and the same time period again in 2016.
ODOT posted a looped video of the blasting, shown below, which occurred between Kiwanis Camp Road and the Mirror Lake Curves
K&E Excavating is working with ODOT to complete the following components of the project:
Paving 8 miles of U.S. 26 between Silent Rock and Oregon Route 35
Creating a 600-foot-wide by 27-foot-wide ditch at Map Curve to provide a landing area for rocks away from the road
Cutting back the rock slope east of the runaway truck ramp to east of the Mirror Lake trailhead
Widening the highway and adding a median barrier
Adding a solid concrete barrier for 1.6 miles between the eastbound and westbound lands of U.S. near the runaway truck ramp east of the Mirror Lake Curves.
Adding a temporary retaining wall to limit the impact on nearby trails
Extending westbound passing lanes for roughly 1,400 feet
Details and construction updates for the project are available at www.US26MtHoodSafety.org.