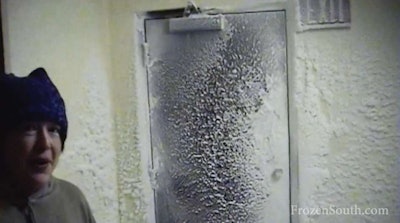 As I was shoveling my car out from yet another snowstorm and deicing the doors so I didn't have to have my children crawl in through the trunk of the minivan (Yes, I've had to have them do that when the motorized sliding doors just would not open), I was trying to think positively – that there are places much colder.
[youtube Hp6wMUVb23c nolink]
I began to wonder where those were so I did a little research.
I discovered a report that NASA posted in December about a discovery scientists made while analyzing the most detailed global surface temperature maps to date, that NASA says was developed with data from remote sensing satellites including the new Landsat 8, a joint project of NASA and the U.S. Geological Survey (USGS).
So where is the coldest place on Earth?
According to NASA, it's a high ridge in Antarctica on the East Antarctic Plateau where temperatures in several hollows can dip below -133.6 degrees Fahrenheit (-92 degrees Celsius) on a clear winter night. These findings were presented by Ted Scambos, lead scientist at the National Snow and Ice Data Center in Boulder, Colo., and a team of researchers at the American Geophysical Union meeting on Dec. 6 in San Francisco.
[vimeo 63131414 nolink]
To determine that this was, in fact, the coldest place on Earth, NASA says researchers analyzed 32 years' worth of data from several satellite instruments. They found temperatures plunged to record lows dozens of times in groups of pockets near a high ridge between Dome Argus and Dome Fuji, two summits on the ice sheet known as the East Antarctic Plateau. A new record of -136 degrees Fahrenheit (-93.2 Celsius) was set on Aug. 10, 2010.
The previous record was -128.6 Fahrenheit, which was set in 1983 at the Russian Vostok Research Station in East Antarctica, according to the NASA report.
The coldest permanently inhabited place on Earth is northeastern Siberia, according to the NASA report, where the towns of Verkhoyansk and Oimekon, Russia, have been as cold as -90 degrees Fahrenheit (-67.8 Celsius) in 1892 and 1933, respectively.
"We had a suspicion this Antarctic ridge was likely to be extremely cold, and colder than Vostok because it's higher up the hill," Scambos said in the NASA report. "With the launch of Landsat 8, we finally had a sensor capable of really investigating this area in more detail."
Watch the first video included in this blog to see a narrated animation video from NASA's Goddard Flight Space Center that shows the process by which the coldest place on Earth develops its extreme low temperatures.

Also, check out the second included video to see a Condition 1 Storm in Antarctica from "Antarctica: A Year on Ice." It's unreal!