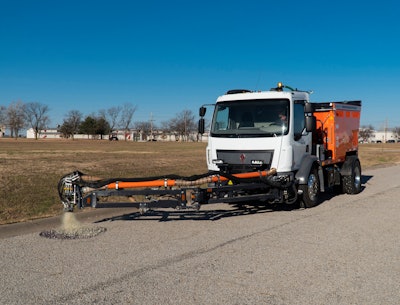 Bergkamp's new SP5E Spray Injection Pothole Patcher repairs potholes in a few minutes and requires little training for operators, the company says.
Replacing its SP5, the truck-mounted SP5E is operated from the cab by one person. The operator controls the patcher by joystick and touchscreen display. "Operators require only minimal training, included at startup, to become proficient in producing quality pothole repairs," the company says.
To make it simpler to operate, Bergkamp added its new SPECS (Smart Patching Equipment Control System) to control material output to a configurable mix design, which the company says improves quality and consistency of pothole repairs. SPECS also monitors the front boom position to keep it in a safe operating zone, the company says. The touchscreen control shows easy steps for the operator to follow.
Safety features on the SP5E include an automatic latching system to secure the front boom for travel without the operator having to leave the cab and a variety of lights, arrow boards and basic or 360-degree camera options. The company says the SP5E uses a PTO drive, instead of an auxiliary engine, to reduce pollution, noise and maintenance requirements.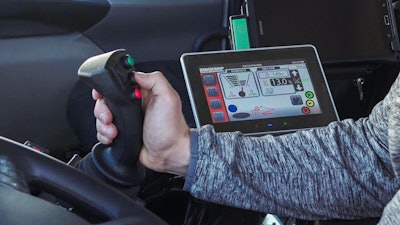 Buyers or renters can choose between a single- or dual-chamber aggregate hopper, both of which hold 5 cubic yards struck. The dual-chamber hopper can dispense two gradations of aggregate in a 50/50 or 60/40 split. This aids in deeper pothole repairs and enables better matching of the asphalt pavement, the company says.
The hopper wall has a 55-degree angle for steady flow to the augers without using a vibration system. Operators unload aggregate from the hopper by removing a rear cover and reversing auger operation.
The SP5E's spray head is self-clearing to prevent blockage, as the emulsion nozzles automatically blow out after every patch. The head also oscillates, which provides even distribution of patch material and reduces boom movement. The spray head has three emulsion nozzles, designed to "provide a homogeneous coating of aggregate with the asphalt emulsion," the company says.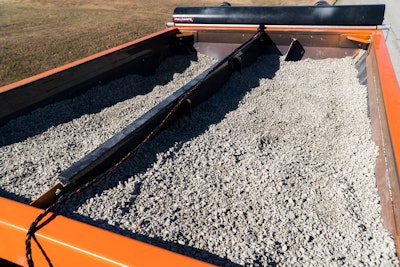 Bergkamp says it works closely with agencies to help locate the proper emulsion and aggregate materials in their area. Bergkamp also offers its B-FIT (Follow up, Inspection and Training) program, which provides a free onsite visit by a Bergkamp technician within the first year to inspect the equipment and provide additional crew training.
The SP5E also comes with Bergkamp's InPave Technology Pothole Patching Management System. The telematics system provides pothole patching data to use for budgeting and planning.
For those not ready to purchase the pothole patcher, Bergkamp also offers rental options.