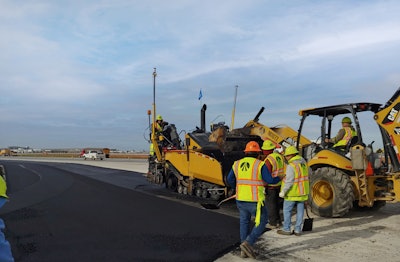 Contractors ready to ditch the stringline or upgrade from 2D paving have a new option as Trimble launches its Roadworks 3D Paving Control Platform for Asphalt Pavers.
With 3D paving, the operator can pave to the project's design specifications. After being fed the design, the system automatically controls the paver's screed. It can take out high and low areas on the first layer as the screed follows the design for slope and thickness. Trimble says the system automatically lays the right amount of asphalt for improved accuracy and increased productivity.
By avoiding excess asphalt placement, the system increases road smoothness. This can also lead to potential bonus pay on projects that offer such incentives. It also means not having to spend time setting out and taking up stringline.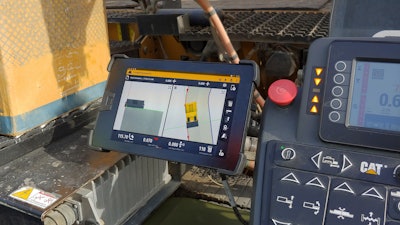 3D paving is most often used on complex projects, highway or airport jobs. However, manufacturers of pavers and machine control systems say contractors are increasingly using the systems on many other projects as a way to save time, increase productivity and ensure accuracy.
Most paving contractors have already made the switch to 2D control, software manufacturers say. 2D systems automatically adjust the screed to meet desired asphalt thickness and use the ground as a reference, calculating an average elevation for the paving surface.
3D control works from the 3D design model and can handle variable depths and slopes, which especially comes in handy when working on complex designs, such as transitions, super-elevated curves and frequently changing cross-slopes, Trimble says.
The launch of the new 3D system follows Trimble's introduction of its newest Roadworks 2D system in 2020. Both systems use some of the same components as Trimble's Earthworks platform for excavators, dozers and graders.
Trimble says its 3D paving system achieves finished surface accuracy within 3 millimeters, and it enables the screed to be operated by only one worker.
When using Trimble's SNM941 Connected Site Gateway, the design model can be automatically transferred from the office to the machine via the cloud. Trimble says this enables the paver operator to always be working from the most up-to-date design.
The system uses Trimble's 10-inch TD520 touchscreen display. Trimble says the system uses color graphics, a personalized interface and configurable views and is easy to learn.
The touchscreen runs on the Android operating system and allows third-party apps to be downloaded for operators to use while in the cab. The Roadworks system is compatible with Trimble's SPS930 Universal Total Station.